Stevia Vanilla Ice Cream
I have several family members with diabetes and have been looking for a few different ice cream recipes that use sugar substitutes like stevia. Here's a great stevia vanilla ice cream recipe . It was a big hit!
Yes, it does use raw eggs. Personally I don't have an issue with them, but if you prefer you can use either pasteurized eggs or egg substitute in this recipe. I find that texture of the ice cream isn't quite as good when using the substitute.
Stevia Vanilla Ice Cream Recipe
1 (12 oz) can fat-free evaporated milk
2 tablespoons liquid stevia
1 1/2 cups whole milk
1 tablespoon vanilla extract
3 eggs, well beaten

Mix the stevia into the evaporated milk well. Add the milk and vanilla. Mix again until everything is combined.
Whisk the eggs in one at a time, and whisk until well combined.
If you prefer, you can use pasteurized egg substitute instead of raw eggs.
Pour the mixture into your ice cream maker and follow the directions for your model.
For more delicious homemade icecream recipes, grab a copy of the Homemade Ice Cream and Other Frozen Treats ebook here.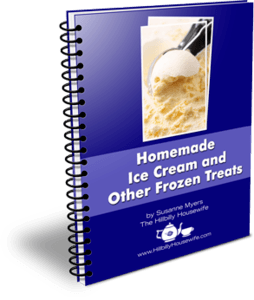 You'll find instructions for making ice cream with and without an ice cream maker and 100 recipes for ice cream, frozen yogurt, sorbet, sherbet and popsicles. Get your copy today!
Disclosure: Some of the links below are affilate links, meaning, at no additional cost to you, I will earn a commission if you click through and make a purchase.