Starting Whole 30 – Wanna Join Us?
I had such high hopes  in January that this would be the year when I finally get healthy and lose a bunch of weight. Fast forward a few short weeks and I was back on my old unhealthy eating schedule. I was too busy, eating healthy was too expensive, the list of excuses could go on and on…
I've tried a few different things here and there and did my best to eat healthier in general (except for my trip to Germany… all bets where off there), but the scale wouldn't budge by more than a couple of pounds and I wouldn't stick to anything serious for more than a few days.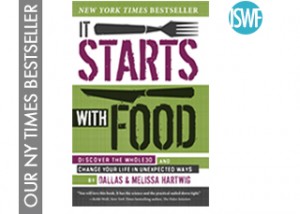 I was complaining about all this to my friend Tracy from MomsinaBlog.com. She mentioned she'd been thinking about doing Whole30. I spend some time Saturday reading through the website and ended up getting the "It Starts With Food" book on my kindle. I spend most of Saturday evening and yesterday morning reading it cover to cover. It make a lot of sense.
Tracy and I decided to start the Whole 30 Program together today and we'd love to have you join us. Don't feel like you need to jump in today. Do your research, get the real foods to get started and jump in in a day or two.
Here are the basic rules:

Eat Real Food 
Eggs
Meat and Seafood
Lots of fresh Veggies
A Little Fruit
Good Fats (Avocado, olive and coconut oil, nuts and seeds)
For 30 Days Completely Avoid:
Sugar and Sugar Substitutes (including honey, agave nectar, stevia etc.)
Alcohol
Grains (including quinoa)
Legumes
Dairy (except clarified butter or ghee)
Don't recreate "junk food"
That's it… it's also recommended that you try to have 3 large meals a day and do your best to eat breakfast within an hour of waking. I've been playing around with the food and eating this way over the weekend and am still struggling a bit eating so early in the morning.
Overall thought this seems very doable and the cooking is actually pretty easy so far. I'll do my best to remember to take pictures of what I'm eating and share them with you each day.
One last rule. Go step on the scale before you start (if you want), and then don't step on it again until the 30 days are over.
I hope you decide to join us. Leave me a comment below and if you are on Facebook, feel free to join the 52 lb in 52 days group here. Tracy and I run the group and will report progress, share recipes and encourage each other over there. We'd love to have you. It's a private group so you will need to request to be added.
Disclosure: Some of the links below are affilate links, meaning, at no additional cost to you, I will earn a commission if you click through and make a purchase.