Standing Up and Scotch Eggs – Whole 30 Day 3
I was busy working on today's newsletter while I was drinking my coffee and kept breakfast simple. I had a beautiful large tomato ready from the garden and just fixed some scrambled eggs cooked in a little ghee to go with it. Sometimes simple meals are my favorites and it was hard to beat the flavors of fresh eggs and fresh tomatoes.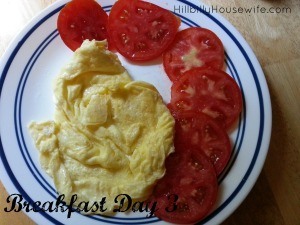 Speaking of coffee… I haven't really talked about what I've been drinking and what I'll continue to drink during the Whole 30. My main beverage of choice is water which is surprising. I've always had a hard time drinking water but eating this fresh, unprocessed food somehow makes me want to go to the sink and grab a glass of water.
In the past, I've mostly drank coffee throughout the day. I still enjoy a cup in the morning (black coffee, no cream or sugar allowed), but I don't feel like I need to keep going back for more and have cut out all afternoon coffees as well.
I'm also trying something new this week… working on the computer while standing up. I spend way too much time hunched over my keyboard typing, researching, etc. Yesterday I figured out that both my kitchen counter and my ironing board make for perfect standing desks.
It is taking some getting used to and I only work standing up for half and hour or so before sitting back down. I'll work on it throughout the week though and I can already tell you one thing… it helps with productivity. I'm much more focused and ready to get a blog post finished when I tell myself I have to stand here till it's done. 🙂
Before lunch I made some scotch eggs. I had some ground pork and eggs sitting in the fridge. I just made the sausage up as I went. You can read more about how I made these eggs here.
I had one of the eggs and a nice side salad for lunch. worked out pretty good and they are quite tasty.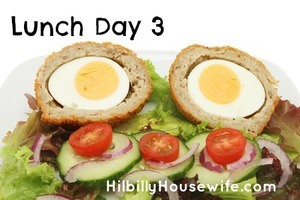 Since I'm leaving town tomorrow morning and am trying to use up as many groceries as possible before I leave, I'm having squash noodles with the last of the sauce. Even though this is the third day in a row I'm eating this, I don't mind at all. It's just as delicious as the first day and pretty filling.
Of course I forgot to take a picture, but it looked pretty much like it did in the first picture. The only difference was that all I had left was yellow squash. I think I like the combination of zucchini and yellow squash the best.
Disclosure: Some of the links below are affilate links, meaning, at no additional cost to you, I will earn a commission if you click through and make a purchase.