St. Nikolaus Traditions
One of my favorite things about December is all the different Holiday traditions. As you may or may not know, I was born and raised in Germany and try to incorporate some German Traditions throughout the year. One of my favorite is St. Nikolaus Day.
St. Nickolaus would come by during the night with his big bag and leave some goodies in your shoe. I'm sure this sounds familiar… Santa Claus evolved from St. Nik. Here's a little more information about this saint from Wikipedia
Saint Nicholas (15 March 270 – 6 December 343) was a historic 4th-century saint and Bishop of Myra in Lycia. Because of the many miracles attributed to his intercession, he is also known as Nikolaos the Wonderworker.

He had a reputation for secret gift-giving, such as putting coins in the shoes of those who left them out for him, and thus became the model for Santa Claus.
His feast day is the 6th of December.
Here are some of my family traditions for December 6th.
Putting Out The Boot
Growing up we would always put one boot out on the front porch on December 5th. In the morning, the boot would be filled with walnuts, tangerines, chocolates and of course a chocolate St. Nikolaus. Can you see how the Santa tradition is closely related to St. Nikolaus? It was always a lot of fun and even though it wasn't a whole bunch of stuff, those were some nice seasonal treats and a great reminder that St. Nik is the protector of children.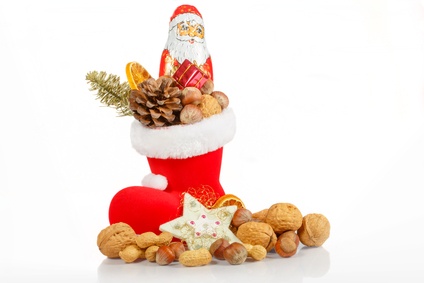 St. Nikolaus Plates
Alternatively, if you don't want to do the boot thing, or you're surprising an adult, plates are an alternative. They are also a nice seasonal treat for family, friends, co-workers or an elderly neighbor. Get an inexpensive seasonal plate. I like picking them up at the dollar store and then just arrange some homemade cookies, nuts, fruit etc on there and take it to the recipient.
St. Nikolaus Comes To Visit
Once when I was little, my parents got together with two other families and hired a St. Nikolaus to come visit us. He read from a big golden book and recounted things we'd done during the past year that he was proud of. He also pointed out a few things we still needed to work on. Then he gave each of us kids a present from his big bag. It's something I'll never forget and a tradition I want to pass on to my daughter… now I'll just have to talk Hubby into renting a Santa suit and playing the role.
St. Nikolaus Socks
This is a bit of a long story… My Dad was named after St. Nikolaus so the 6th of December is his name day (something we celebrate a little in Catholic Germany). My Grandmother would knit him a new pair of socks each year for St. Nikolaus Day.
Fast forward a few decades. I finally learned how to knit socks. Last fall I met a fellow German knitter on Ravelry and she shared that one of her family traditions is to knit socks for everyone in her immediate family for St. Nikolaus Day. I loved the idea and made it one of our own. For the past two years I've been knitting a pair of socks for Hubby, our daughter and myself in time for St. Nikolaus Day.
Of course you don't have to learn to knit (though it's lots of fun) to make this part of your own family tradition. Buy some fun new socks… even better, make them Christmas themed socks and gift them on December 6th. Or make it PJs or Sweaters instead.
I hope you've enjoyed reading about my German Holiday Traditions and St. Nikolaus Day. Maybe you're even inspired to make them part of your own Christmas Season.
Disclosure: Some of the links below are affilate links, meaning, at no additional cost to you, I will earn a commission if you click through and make a purchase.