Split Pea Dahl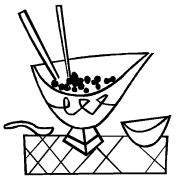 1 cup dry split peas
2 tablespoons olive or oil
1 teaspoon cumin
1 teaspoon salt
1/2 teaspoon garlic powder
1/2 teaspoon turmeric
1/2 teaspoon dry mustard
1/8 teaspoon cayenne pepper
Simmer the peas in about a quart of water for 45 minutes, or until they are tender. Cook the rice while the beans cook. Brown rice takes about the same amount of time to cook. After the peas are tender, heat the olive oil in a small skillet or saucepan. Add the seasonings and fry them gently in the fat until they are fragrant and bubbly. You do this to bring out the full flavor of the spices, please do not omit this step or the finished dish will loose part of it's trademark flavor. After frying the spices, scoop about 1/2 cup of juice from the split peas into the small pan with the spices. Stir it up to dissolve all the spices in the juice. Pour the spicy juice back into the big pot of split peas. Stir it up and simmer for a few minutes to blend the flavors. Ladle the split pea dahl over cooked rice and serve.
This recipe calls for a lot of spices. Essentially you are making your own curry powder by combining the spices this way. Regular curry powder, purchased in cans at the market, is a combination of spices, specifically blended for the American palette. This dish is a little closer to authentic than it would be if made with store bought curry powder. It also tastes much better. Like dishes from many other countries, Split Pea Dahl makes use of those foods which are cheapest and most abundant in the locality which created them. This one gets it's inspiration from India.
Do you want a bean recipe with a more down home flavor? Then try this cowgirl bean recipe.
Disclosure: Some of the links below are affilate links, meaning, at no additional cost to you, I will earn a commission if you click through and make a purchase.