Spiced Up Eggnog
I love Egg Nog, but hardly ever get around to making it from scratch… it just gets too busy around the holidays. Plus I like the idea of using something that's store-bought and properly pasteurized. An it's easy to still add your own personal touch and make it at least semi-homemade. This recipe below is the perfect example. The end result is a tasty drinkable treat that isn't quite as thick an filling as pure eggnog.
Spiced Up Egg Nog
Ingredients
12 oz. Ginger Ale, chilled
1 qt. Eggnog
12 oz. Frozen Orange Juice from Concentrate, thawed
Instructions
In a large pitcher, combine the frozen (thawed) orange juice from concentrate with the eggnog and stir until well blended.
Next, slowly add the ginger ale and gently stir.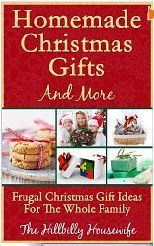 Would you like to steer clear of the holiday shopping crowds? You can with this guide to Homemade Christmas Gifts and More. Making Homemade Christmas gifts is one way to actually enjoy the process of gift-giving. Not only are homemade gifts and decorations frugal, they're more fun! We don't have to rush out to the mall to shop for Christmas when we have ideas for creating gifts right at home. Take time to enjoy your holiday season. Click on and download now to start planning your frugal AND fun Christmas. www.hillbillyhousewife.com/christmasbook
Disclosure: Some of the links below are affilate links, meaning, at no additional cost to you, I will earn a commission if you click through and make a purchase.