Spiced Pineapple Pork
If you're getting tired of having the same old ham or turkey for Christmas Dinner, or are looking for something simple but impressive for a Holiday party, give this spiced pineapple pork a try. The tenderloin is always nice and tender and the fruit and spices add a lot of extra flavor.
Of course this recipe isn't just for the Holidays. It would make a nice Sunday dinner throughout the year. Serve it with either rice or potatoes and your favorite vegetables. Leftover pork is great on a salad for lunch or dinner the next day.
Spiced Pineapple Pork
Ingredients
8 Pieces Pork Tenderloin (approximately 1 lb. total)
2 T. Butter, divided
1/4 t. Salt
1 Red Bell Pepper, washed and cut into strips
1 Can Pineapple Chunks with Natural Juices
1/2 C. White Wine, dry
1 T. Jalapeno Pepper, chopped
1 T. Ginger, peeled and chopped
1 T. Cilantro, chopped
1/8 t. Ground Cinnamon
Instructions
Press each pork tenderloin down until it is approximately 1 inch thick and sprinkle with salt.
In a skillet over medium heat, melt 1 tablespoon of butter and add the pieces of pork. Cook each side for roughly 3-5 minutes, or until tender and cooked through.
Place tenderloins on a serving plate, keeping them warm.
In the same skillet, over medium heat, add the last tablespoon of margarine and then stir in the bell pepper. Cook until the bell pepper is crispy, but still tender.
Adjust heat to low and slowly add the pineapple with juice followed by the white wine, jalapeno pepper, ginger and cinnamon. Continue to simmer until the total liquid is roughly 1/4 cup.
Drizzle the pineapple mixture over the pork tenderloins and top with freshly chopped cilantro.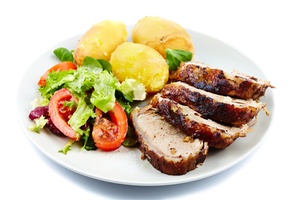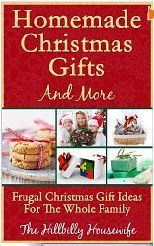 Would you like to steer clear of the holiday shopping crowds? You can with this guide to Homemade Christmas Gifts and More.
Making Homemade Christmas gifts is one way to actually enjoy the process of gift-giving. Not only are homemade gifts and decorations frugal, they're more fun!
We don't have to rush out to the mall to shop for Christmas when we have ideas for creating gifts right at home. Take time to enjoy your holiday season. Click on and download now to start planning your frugal AND fun Christmas.
www.hillbillyhousewife.com/christmasbook
Disclosure: Some of the links below are affilate links, meaning, at no additional cost to you, I will earn a commission if you click through and make a purchase.