Spiced Oatmeal Raisin Cookies
I'm a big fan of oatmeal raisin cookies and make them throughout the year. Sometimes I leave the raisins out, sometimes I use chopped apple instead.
In December though, I take things to another level with these holiday spiced oatmeal cookies. The spices and nuts take this from a rather plain cookie to something really special… perfect to go with your coffee on Christmas morning.
The recipe is from the Christmas Cookies Kindle Cookbook.
Spiced Oatmeal Raisin Cookies
Ingredients
1/2 cup shortening
1 cup sugar
2 eggs
1 tsp vanilla extract
5 Tbsp milk
2 cups flour
1/4 tsp salt
1 tsp baking soda
1/2 tsp baking powder
2 tsp ground cinnamon
1 tsp ground cloves
1 tsp ground nutmeg
1 cup old fashioned rolled oats
1 cup raisins
1/2 cup chopped nuts (optional)
Instructions
Preheat oven to 350 degrees and lightly grease cookie sheets.
Cream the shortening and sugar together until fluffy.
With mixer running, add the eggs, vanilla, and milk; mix until well blended.
In a separate bowl, sift together the flour, salt, baking soda, baking powder, cinnamon, cloves, and nutmeg.
Slowly add these dry ingredients into the creamed mixture while the mixer is running on low; blend well.
Remove the bowl from the mixer and stir in the remaining ingredients using a large spoon or rubber spatula.
Drop teaspoon size piles on the cookie sheet, leaving room for spreading.
Bake in preheated oven for 13 to 15 minutes or until lightly browned.
Remove to a cooling rack.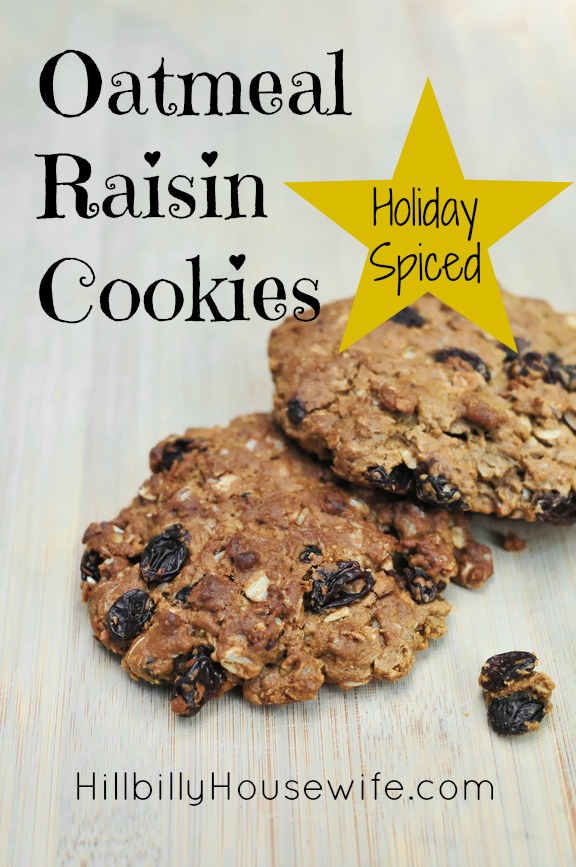 Christmas time is upon us and there's just something magical about this time of year that takes us back to when we were little.
One of my favorite things has always been to have everyone gathered together to make Christmas Cookies.
We made many different types of cookies to share with friends and family to celebrate the holidays. It's one of my favorite memories and one I try to recreate every year.
This year, I wanted to share some beloved cookie recipes with you so you could build your own memories by spending quality time together as a family
 Order The Christmas Cookies Cookbook on Amazon. 
Disclosure: Some of the links below are affilate links, meaning, at no additional cost to you, I will earn a commission if you click through and make a purchase.