Spiced Mini Muffin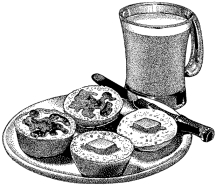 1 1/2 C all purpose flour
1/2 C sugar
2 tsp baking powder
1/2 tsp salt
1/2 tsp nutmeg
1/2 tsp allspice
Enough egg substitute to equal 1 egg
1/2 C skim milk
1/4 C canola oil
2 T sugar
1/2 tsp cinnamon
1/4 C margarine, melted
Preheat oven to 400 degrees.
Spray a mini muffin tin with a non stick cooking spray.
In a large bowl sift together the flour, 1/2 C sugar, baking powder, salt, nutmeg and allspice.
In a small bowl blend together the egg substitute, milk and oil, being sure to blend well.
Pour the egg mixture into the dry ingredients.
Mix with a wooden spoon just until moistened.
Bake 12 minutes or until a toothpick inserted in the muffin center comes out clean.
Remove muffins from the oven.
Mix together the 2 T sugar and the 1/2 tsp cinnamon.
Brush the muffins with the melted butter and sprinkle with the sugar cinnamon topping.
These little muffins make a great after school snack. Kids love to pop them in their mouth and follow it with a drink of cold milk.
Here are some tips on how to freeze these muffins. It's a great way to make them ahead of time and then just reheat and server.
Here's another mini muffin recipe for you…this time for almond mini muffins. Enjoy!
Disclosure: Some of the links below are affilate links, meaning, at no additional cost to you, I will earn a commission if you click through and make a purchase.