Skirt Steak Recipes Needed
Does anyone have a good skirt steak recipe?
Susanne's note – If anyone is unfamiliar with skirt steak, here is the description from Wikipedia:
"Skirt steak is a cut of beef steak from the plate. It is long, flat, and prized for its flavor rather than tenderness. It is not to be confused with flank steak, a generally similar adjacent cut nearer the animal's rear quarter."
Yes, skirt steak must be prepared in such a way as to tenderize it.  The flavor and the price are right, so this cut of beef is well worth considering.  I'll check around and see what sort of recipes I have, too.  I'm anxious to see what everyone comes up with here.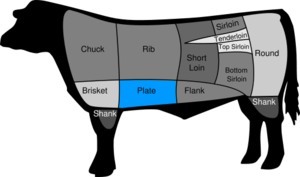 Disclosure: Some of the links below are affilate links, meaning, at no additional cost to you, I will earn a commission if you click through and make a purchase.