Skillet Granola
Frugal tip: I have made this without any additional nuts or dried goodies. It is great plain, and my kids love it as a snack any way I fix it.
2 tablespoon olive oil
4 cups rolled oats
1/2 cup butter
1 tsp. vanilla
4 tablespoons honey
1/2 cup packed brown sugar
1/2 cup chopped almonds — (or any nuts you prefer)
1/2 cup dried cranberries — (yummy with raisins, blueberries and/or
cherries)
Heat the oil in a large skillet over medium-high heat. Add oats then cook and stir until starting to brown and crisp, about 5 minutes. Push the oats to the side of the pan.
Melt the butter in the same pan over medium heat. Stir in the honey and brown sugar; cook, stirring constantly, until bubbly. Push the oats around in the pan and stir to combine. Cook and stir for another 5 minutes or so to make sure to coat thoroughly. Pour out onto the cookie sheet and spread to cool.
Once cool, transfer to an airtight container and stir in the almonds and dried cranberries. Any additional nuts and fruit can be stirred in at this time also.
You can add about 1/2 tsp. cinnamon or nutmeg if you'd like. You can change the vanilla for Maple flavoring or add equal parts. (Yummy!) This recipe is very forgiving.
I never make smaller batches, because I can always put additional in small bags and store in the freezer. It makes better use of my stove. I like to thaw them in the microwave and eat while warmed.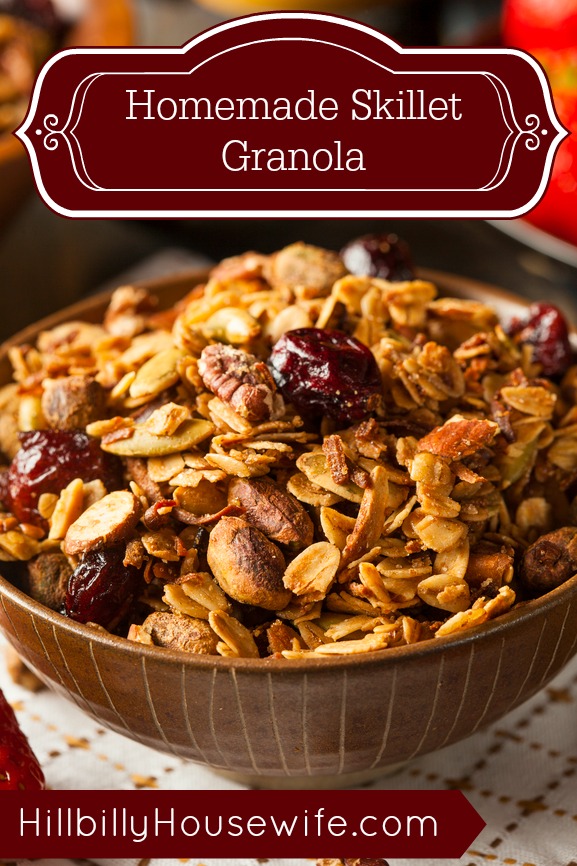 By HBHW reader Carla G.
Disclosure: Some of the links below are affilate links, meaning, at no additional cost to you, I will earn a commission if you click through and make a purchase.