Zucchini Noodles With A Simple Meat Sauce
I'm eating clean according to the rules laid out in Whole 30, which means no grain, no dairy, no soy, no legumes etc. The think I knew I was going to miss the most was pasta. It's my favorite type of food and I knew I needed to find some substitutes. I tried various miracle noddles, but to be honest, I'm not a big fan.
I remembered seeing some things online about zucchini noodles, but thought I needed a fancy vegetable spiral cutter to make it work. While I was pinning some Whole 30 recipes to get ideas, I came across someone using a julienne peeler. Since zucchini and squash are in season (and growing in my garden), I thought it was the perfect time to give this a try.
I went off to one of my local grocery stores that supposedly carried these types of peelers. Sadly, none cut be found. But I was determined to make "pasta" and decided to give it a go with just a regular plain veggie peeler.
It worked out great. The end result was wide "fettuchini-like" ribbons of yellow squash and zucchini. I started out peeling the zucchini and just kept going around until I hit the core with the seeds. I saved those to use in soup later this week and ended up with a big pile of veggie noodles from just one small zucchini and squash.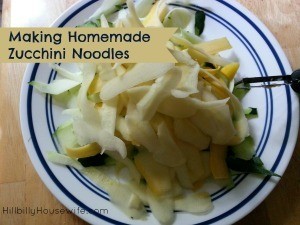 What you see on the plate above is the huge serving I ended up eating for lunch. If you're cooking for more people, you obviously want to shave a few more veggies.
Next I made up a simple meat sauce from scratch. I've been reading labels of packaged foods religiously for the past few days and there were just too many additives (mostly sugar) in prepared pasta sauces. I got a small packet of lean ground beef (it was just over 1lb) and browned it up with a little onion, some salt and pepper.
I took half that mixture out once it was cooked to use in a different meal later on in the week. You can refrigerate the cooked ground beef for a few days, or freeze it for longer storage.
Next I added some garlic and cooked it until the garlic was fragrant. I added a can of diced tomatoes and seasoned the cooking sauce with Italian spices. You can use a seasoning mix, or just add a little basil, oregano, rosemary etc. I let the sauce simmer while I cooked my veggie noodles.
This was surprisingly simple and quicker than boiling pasta. I took out a large non-stick skillet and heated it over medium high heat. I added the zucchini strips without any oil or seasonings and just moved them around the pan until they started to get floppy and noodle like. That's it.
I put the finished noodles on my plate and topped them with some of my sauce. I ended up with about 3 servings of sauce. Here's what it looks like.
Zucchini Noodles With A Simple Meat Sauce
Ingredients
2 to 3 medium zucchini
2 to 3 medium squash
1/2 lb to 1 lb of lean ground beef
1/2 onion
1 clove of garlic
1 can of diced tomatoes (for more sauce, use a large can)
salt and pepper to taste
italian seasoning to taste
Instructions
Use a vegetable peeler to peel around the veggies until you reach the seedy core. Set the vegetable "noodles" aside while you make the sauce.
Brown the ground beef with salt, pepper and onion.
Chop the garlic finely or use a garlic press and add to the meat mixture. Continue cooking until the garlic becomes fragrant (about 2 minutes).
Add the diced tomatoes and season to taste.
Allow the sauce to simmer while you prepare the vegetable noodles.
Get out a non-stick skilled and heat it over medium to medium high heat. Add the vegetable shavings (no oil or seasonings) and move them around while they cook. Once they become floppy like noodles and are done to your taste, move them to plates and top with the finished sauce.
Disclosure: Some of the links below are affilate links, meaning, at no additional cost to you, I will earn a commission if you click through and make a purchase.