Zucchini and Ground Beef Stew
My neighbor down the road is a big gardener. He's gotten a much earlier start this year than we did … Plus I guess it helps that he actually knows what he's doing. We stopped by earlier today to talk about plants and how to best take care of our tomatoes, cucumbers, beans, zucchini and squash.  We walked out of there with 4 beautiful zucchini that I'm turning into a yummy zucchini and ground beef stew with tomatoes, onions and garlic. It's one of my favorite summer meals. It's great on its own topped with a little Parmesan cheese, or you can serve it over cooked rice or pasta.
Beef and Zucchini Stew
Ingredients
3 to 4 medium zucchini
1 onion
1 lb ground beef
1 16 oz can of diced tomatoes
1 to 2 cloves of garlic
salt and pepper to taste
Instructions
Chop your onion and garlic. Slice the zucchini.
Brown the ground beef and add the onion. When the meat is almost done browning, add the garlic, salt and pepper. Cook until the garlic is fragrant and the meat is done.
Add the sliced zucchini and give it all a good stir. Cook for 3 minutes, then add the can of diced tomatoes (including the liquid).
Simmer for 10 minutes or until the veggies are tender to your liking.
This tastes just as good warmed up the next day, so don't be afraid of leftovers.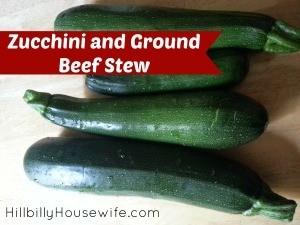 Disclosure: Some of the links below are affilate links, meaning, at no additional cost to you, I will earn a commission if you click through and make a purchase.