Will You Be Prepared for an Emergency on the Road?
Roadside emergencies are inevitable. The question isn't if, it's when. Will you be prepared? If you drive at all, at some point in time you will be faced with a roadside emergency. A broken fan belt, a dead battery, a flat tire or leaking radiator are just a some of the things that can happen when you travel. No one can predict when they'll have an emergency along the road. The best you can do is be prepared.
A minor emergency, such as a flat in the middle of the day when you can use your cell phone to call the nearest mechanic, is one thing.  But, having a major emergency, such as the same flat tire in the middle of the night in a blizzard with no cell phone service, well, that's the sort of emergency you want to be prepared for. Even if you don't know much about how to fix your car, you can be prepared to do small things such as add water to the radiator or oil to your engine or jump your battery. But, if its more than you can handle you can be prepared to wait it out.
When planning for a roadside emergency, you want to think of two emergency kits; a personal kit and a car kit.
Your Personal Kit should include:
Drinking water
Flashlight with extra batteries
Walking shoes
An extra pair of socks
Non-perishable foods such as snack bars, granola, nuts, etc.
Blanket
Coat
Boots
Warm gloves
Hat
Rain poncho
First aid kit
Your Car Kit should include:
Jumper cables
Flash light with extra batteries
Work gloves
Spare tire (filled), jack and lug wrench
Fire extinguisher
One gallon jug of water
Ice scraper
Multipurpose tool, such as a Leatherman
Small shovel
Kitty litter or sand to use as traction if you are stuck in the snow
2 quarts of motor oil
Paper towels
3 road flares or reflective warning cones or triangles
Duct Tape
Windshield washer fluid
Tire pressure gauge
Rags
If you're traveling for a long distance you will want to pack a personal kit for other family members, as well. Especially when you travel with children, you will want to pack the items they may need if you are stranded for a period of time. Remember items such as:
Formula
Baby food
Water
Snacks
Diapers
Extra clothes
Blankets
Mittens
Hats
Warm shoes and boots
Stroller or other carrier
Games (to keep your kids occupied)
The best thing to do when preparing your kits is try to imagine if you were stranded and couldn't get home for hours. Remember, you will be without electricity, heat, or other comforts of home. What would you want in your car if that were the case? Even small roadside problems can be difficult. A short trip across town could leave you stranded if something happened to your car. You'll want to be prepared as best you can be for these situations so you can return home safe and sound.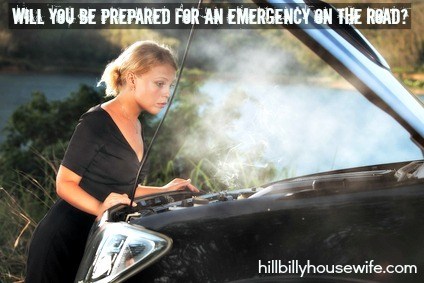 Disclosure: Some of the links below are affilate links, meaning, at no additional cost to you, I will earn a commission if you click through and make a purchase.