Weekday Cookie Recipes – Great For Baking With Kids
Let's start with a quick note that the  Weekday Cookie Recipes Kindle cookbook is available as a free download on Amazon right now. Grab a copy at
www.HillbillyHousewife.com/cookiebook
I put this recipe collection together to make it easy for anyone to whip up a batch of cookies no matter what. They recipes are quick and easy. They don't require any complicated ingredients and come together quickly. Make a batch for dessert after a simple weeknight dinner, or have them ready for the kids when they get back from school.
Even better, get the kids involved in the baking itself. It is a lot of fun and it has some surprising benefits.
The Benefits Of Baking Cookies With Your Kids
There are so many great reasons why you should get the kids involved in the kitchen. Baking cookies is the perfect way to introduce them to the art of making food. They are pretty easy to make and most importantly the end result is delicious.
Baking together is a nice way to spend quality time with your kids and bond. We all spend a lot of time glued to various screens. Baking together forces us to stay way from our phones and devices and pay attention to each other. If you've been thinking about a new way to bond with your child or spend more time together, give baking cookies a try.
Being able to prepare food for yourself is an important life skill. Don't let your kids head off to college or move out after they find a job without a solid foundation on what to do in the kitchen. Baking cookies is a great place to start. It will give them an understanding early on how ingredients can be combined into something delicious. It also shows them that they can make things themselves instead of purchasing convenience foods at the store. They will also experience first-hand that homemade is usually better.
When you watch your child take that first bite of a cookie they baked themselves, you'll see pride. Cooking and baking is a great tool to help develop your child's independence and give them a big confidence boost. It's why it's one of my favorite things to do whenever my daughter comes home from a bad day at school.
Baking cookies together can even be a fun learning activity that you can tailor to your child's age. For small children, measuring ingredients, pouring them into bowls, and mixing the dough is a great way to develop fine motor skills. Challenge your older children to calculate ratios, or do the math required to double a recipe. You can even go into the science of baking and have them figure out why a certain recipe calls for baking soda for example.
Most importantly, have fun. Baking together is a great way to bond and create those cherished memories that everyone involved will treasure for years to come.
Cookies are good any day of the week. Why not bake up a batch this week. It doesn't take long and can easily be done even during a busy weeknight – if you start with the right kind of recipe. That's where these weekday cookie recipes come in handy – they're quick, easy, and some only require two ingredients.
Here are some of the cookie recipes you'll find inside: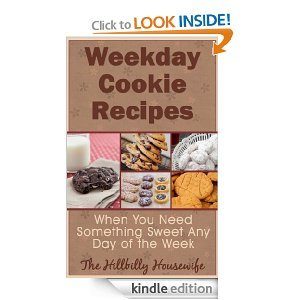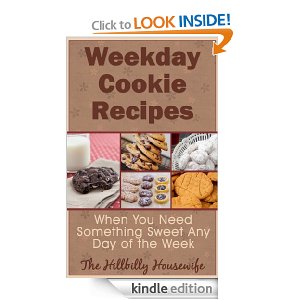 Chocolate Chip Weekday Cookies
Peanut Butter Weekday Cookies
Oatmeal and Cranberry Spice Cookies
Coconut Cookies
Cinnamon Roll Cookies
Flourless Chocolate Nut Cookies
Marshmallow Cookies
Nutella Cookies
Chocolate Puddle Cookies
4 Ingredient Weekday Cookies
Everyday Cookies
Oatmeal Lemon Cookies
Colored Pinwheel Cookies
Jell-o Cookies
Whopper Cookies
Butterfinger Cookies
Whole Wheat Chocolate Chip Cookies
No Bake Cookies
Molasses Cookies
Date Cookies
No Bake Candy Cookies
Easy Sugar Cookies With Chocolate
Walnut Maple Cookies
Healthy Banana Weekday Cookies
Chocolate Crackle Cookies
Orange Juice Cookies
Fudge Crinkle Cookies
Fat Free Chocolate Cookies
Easy 3 Ingredient Cookies
Cream Cheese Cookies
Thumbprint Cookies
Easy Snickerdoodle Cookies
Pumpkin Cookies
Gluten Free Weekday Cookies
Click here to pick up your copy:
www.HillbillyHousewife.com/cookiebook
Disclosure: Some of the links below are affilate links, meaning, at no additional cost to you, I will earn a commission if you click through and make a purchase.