Watermelon Sorbet Recipe
Here's a simple summer dessert that's perfect when you have some watermelon leftover. It's a light and airy watermelon sorbet that you can make either in an ice cream maker or following the special directions below to make it using your freezer and a food processor. Either way it's a delicious frozen treat that you don't have to feel bad about indulging in.
Watermelon Sorbet
about 6 cups of watermelon cut into small chunks
1/4 cup sugar
1 tsp lime or lemon juice
Pinch salt
1/2 cup light corn syrup
Start by adding the watermelon to your blender. You want to blend it into a smooth mixture. Depending on the size of your blender you may want to do this step in two or even three batches. Pour the watermelon puree (it's very watery) into a large bowl.
Put about 1/4 of the watermelon mixture into a large sauce pan and heat it with the sugar, and lime juice over low heat until all the sugar is dissolved. Add the salt and the remaining watermelon puree. Last but not least stir in the corn syrup making sure it gets well incorported.
Allow this mixture to cool, then stick it in the fridge. Once the sorbet mixture is well chilled, get out your ice cream maker and freeze the sorbet in it according to the manufacturer instructions.
If you don't have an ice cream maker, pour the sorbet mixture into a large casserole dish or baking pan and stick it in the freezer overnight. Cut it into large chunks the following day and throw those in your food processor. Pulse it lightly until you get a nice sorbet consistency.
Store any leftovers in an airtight container in the freezer for up to a week.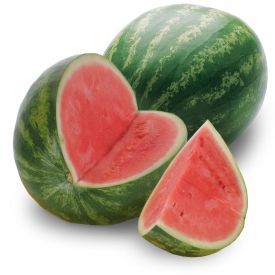 Disclosure: Some of the links below are affilate links, meaning, at no additional cost to you, I will earn a commission if you click through and make a purchase.