Lentil and Vegetable Soup With Dumplings
Today I want to share one of my favorite soup recipes with you. It's filling and frugal. By combining an already filling dish like lentil soup with some simply dumplings, you end up with something that will feed a crowd for pennies. This recipe can be made with items you likely already have on hand. Feel free to switch out the veggies for what needs to be used up first. Of course you can also make the lentil soup without the dumplings if you prefer.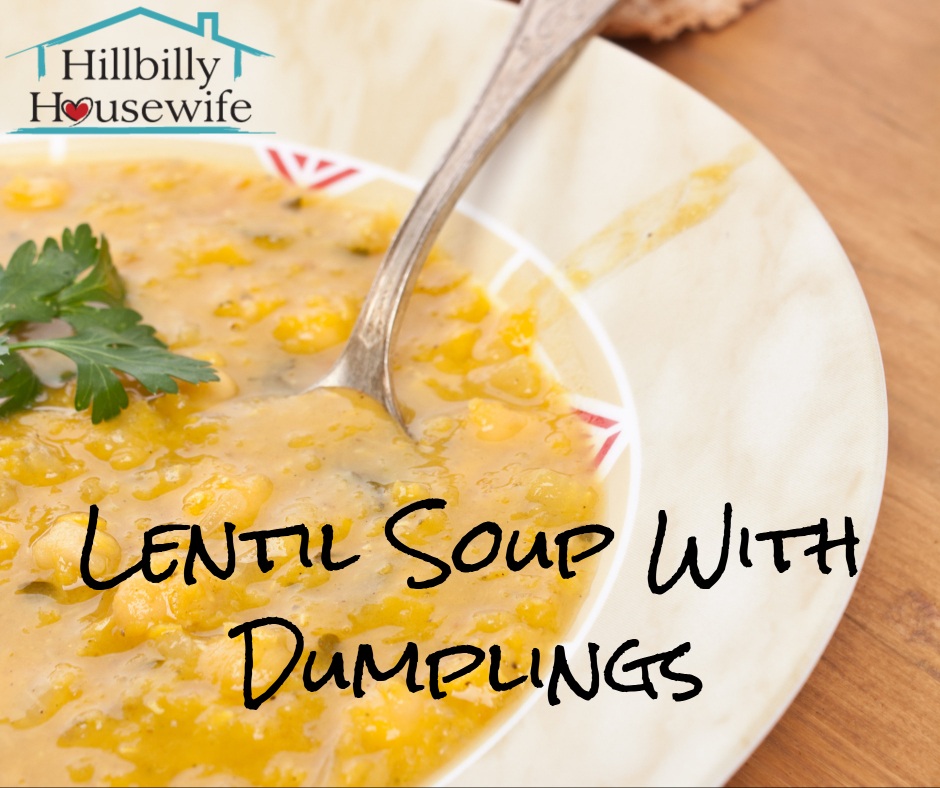 Let's start with the basic recipe here and you'll find more detailed written instructions below.
Lentil and Vegetable Soup With Dumplings
Ingredients
Soup:
1-1/4 cups dry lentils
8 cups water (2 quarts)
4 carrots, peeled and sliced
3 or 4 celery stalks, peeled and sliced
1 large onion, peeled and sliced
4 bouillon cubes or 1 teaspoon salt
1 teaspoon garlic powder
1/4 teaspoon black pepper
Dumplings:
2 tablespoons vegetable oil
1 egg or 3 tablespoons more milk (see note below)
1/2 cup milk
1-1/2 cups flour
1-1/2 teaspoons baking powder
1/2 teaspoon each salt & sugar
Instructions
Rinse the lentils and add them with 2 quarts of water to your soup pot. Bring the mixture to a boil and simmer for 20 minutes. Add remaining vegetables and seasonings. Continue to simmer for 20 more minutes. Add salt and pepper to taste.
Adding The Dumplings
Make the dumpling dough by combining the first three ingredients. Mix the flour, baking powder, salt, and sugar and add this mixture to the wet ingredients to form a dough.
Drop the dough by the teaspoon to the simmering soup mixture. Cover and cook for 20 minutes.
© 2023 Copyright www.HillbillyHousewife.com
Begin by making the soup. Rinse the lentils under running water. Then place them in a large pot and cover them with 2-quarts of water. Bring the mixture to a boil and allow it to simmer over medium heat for about 20 minutes. The lentils will be almost tender. Add the vegetables, bouillon, garlic and black pepper. Stir gently and allow the mixture to simmer for 20 minutes more. The vegetables and lentils will both be tender. Taste and add salt if you think it needs it.
Now look over the amount of liquid in the pot. Add enough extra water so that all of the solids are well covered with liquid. They don't need to be swimming over their heads, but they should be wading up to their waists. Bring the mixture to a slow lazy simmer, not a boil. If the soup boils it will disintegrate the dumplings instead of cooking them up into fluffy, glimmering jewels.
While the soup is simmering, prepare your dumplings. Get out a big bowl. In it combine the oil, egg and milk until they are well blended. Add the flour, baking powder, salt and sugar. Mix it up to a stiff batter, like for drop biscuits. Set it aside until you need it.
When the soup is simmering slowly, it is time to drop in the dumplings. Take small rounded scoops of the dough with teaspoon and drop them into the simmering broth, on top of the vegetables. Keep dropping the dough blobs until you have scraped the bowl clean. Now put the lid, or a handy pizza pan over the pot and let it simmer for 20 minutes. Do not peak. Let the dumplings simmer covered for the full 20 minutes. The thing about dumplings is that they cook partly from the boiling soup and partly from the steam. The steam is what makes them fluffy, and the simmering broth is what cooks them all the way through. If you peak while the dumplings are cooking then they will turn into lumpy, doughy rocks. When the time is up, serve the soup and dumplings as soon as possible. The soup will be thickened and the dumplings will be light and fluffy.
Makes between 4 and 6 servings.
NOTE: If you don't have any extra eggs, then leave out the egg and replace it with 3 tablespoons of milk. The dumplings will still be good.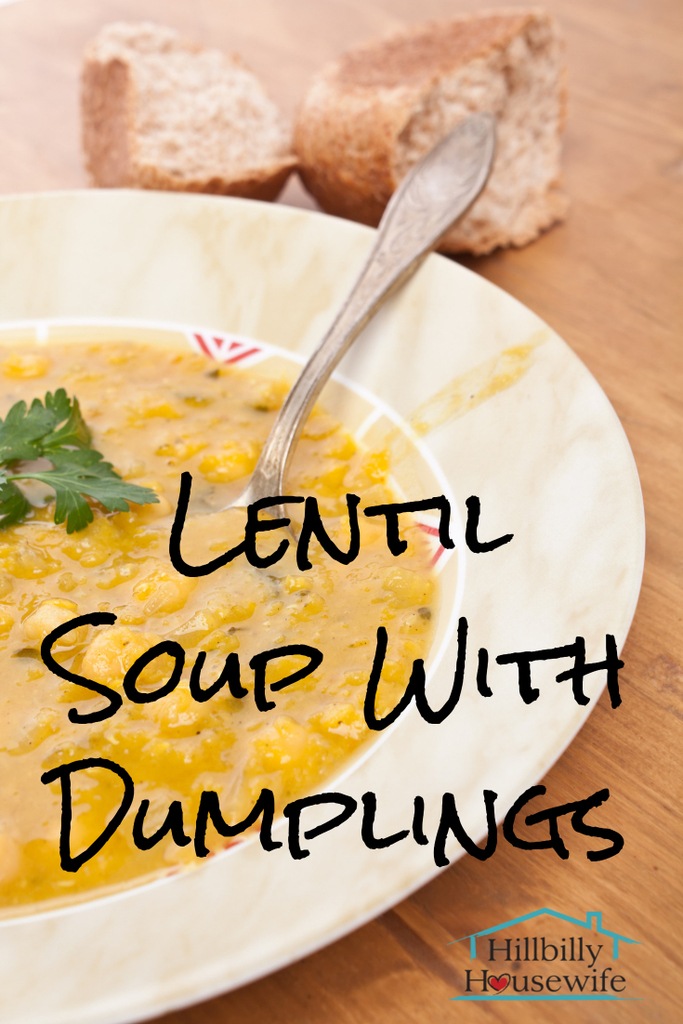 Here's another great bean, lentil and dry pea recipe you may want to try … Chickpea Tacos. My family will just gobble those up.
For even more delicious homemade soup and stew recipes, don't miss this Kindle Cookbook: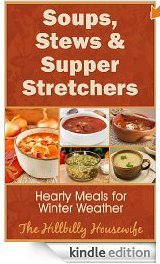 We all have favorite comfort foods that we make over and over to warm us up during cold weather. It's nice to have a few classic dishes to fall back on, but isn't it also fun to find new favorites?
That's exactly what you get in this fun little Kindle ebook – Soups, Stews, and Supper Stretchers
You'll find hearty, filling meals to make you feel cozy and warmer when the weather is gloomy, cold, and dark. Whether you're snowed in or it won't quit raining, these dishes will have you feeling brighter in no time.
Pick it up today and enjoy a warming bowl of comfort food anytime you try one of these recipes.
Soups, Stews and Supper Stretchers
Disclosure: Some of the links below are affilate links, meaning, at no additional cost to you, I will earn a commission if you click through and make a purchase.