Vegetable Chop Suey Recipe
Chop Suey is a great Asian dish you can make out of almost anything. I'll share my version of vegetable chop suey with you, but feel free to add some leftover chicken, pork or beef to it for a meaty Asian inspired meal. To make this extra frugal use whatever vegetables are in season or on sale. In other words, use this recipe as a starting point and then change it around to fit your family and your budget.
3 tablespoons shortening
1 cup diced onion
4 chopped carrots
4 chopped stalks of celery
1 1/2 cups chopped cauliflower
1 ½ cups chopped broccoli
1 cup water
1 cup bean sprouts
Sauce
2/3 cup water
1/3 cup soy sauce
3 tablespoons cornstarch
2 tablespoons sugar
Get out a large skilled or a wok. Melt the shortening over medium heat. Add the onion, carrots and celery.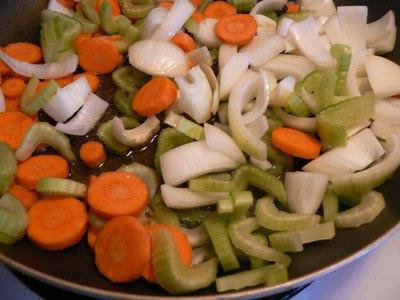 Saute everything until the vegetables start to soften and you can smell the onion. Add the cauliflower, broccoli and the 1 cup of water.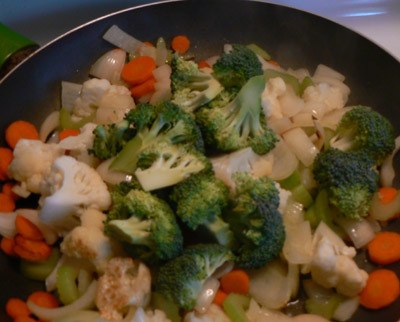 Put a lid (or a large plate if you can't find the lid) on and bring the veggie mixture to a boil. Cook it for about 5 minutes or until everything is done to your liking. I like a little bite left in my carrots but my husband and daughter prefer them completely cooked. (Which translates to me cooking my veggies pretty long).
If you are adding leftover chicken or pork to the dish, now is a great time to throw it in the pot. I cut everything into bite-sized chunks before adding it.
Remove the lid and add the bean sprouts, cooking for a few minutes more. Remember this dish is flexible if you don't like bean sprouts or don't have them on hand, just skip this part.
In a small bowl, whisk together the 2/3 cup water, soy sauce, cornstarch and sugar. Add it to the cooked veggies and stir until it starts to thickened.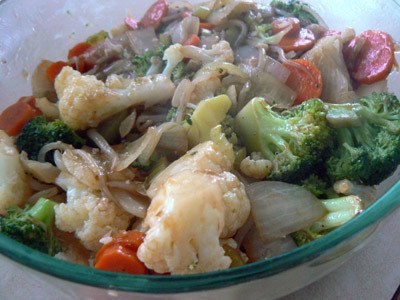 I like to serve this with a big pile of cooked white rice. Frugal, healthy and yummy … what more can you ask for?
Disclosure: Some of the links below are affilate links, meaning, at no additional cost to you, I will earn a commission if you click through and make a purchase.