Vegan Cauliflower Bake
I love cauliflower and have been cooking with it quite a bit lately. With it's mild flavor, it's a great dish that goes with just about anything and a great way to get my family to eat more veggies. In order to cut back a bit on the dairy we eat, I tried my hand at making a vegan cauliflower bake that still has that yummy "cheesy" taste. I love how this turned out and it got two thumbs up from my husband and daughter as well.
Vegan Cauliflower Bake
Prep time:
Cook time:
Total time:
Ingredients
1 head cauliflower
3 tablespoons olive oil
1/2 cup nutritional yeast
Salt and pepper
Instructions
Preheat your oven to 350 F.
Cut the cauliflower into pieces and place it in a large bowl. Add the olive oil and nutritional yeast and toss, so the cauliflower is fully coated.
Put the mixture in a non-stick or greased baking dish and add salt and pepper to taste. Bake uncovered for about 40-45 minutes until the cauliflower is soft and nicely browned. Flip half-way through.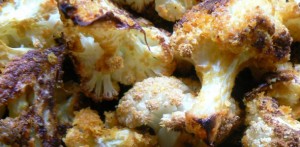 Disclosure: Some of the links below are affilate links, meaning, at no additional cost to you, I will earn a commission if you click through and make a purchase.