Vanilla Pudding
4 cups milk (1 quart; see note)
2/3 cup sugar
1/3 cup cornstarch
1 medium egg
3 tablespoons margarine
2 teaspoons vanilla
Get out a 2 or 3 quart saucepan. In it combine the sugar and cornstarch. Gradually stir in the milk. I use a whisk to make sure the cornstarch doesn't lump. If the milk is cold, so much the better, cornstarch dissolves most completely in cold liquids. Heat the pudding over medium heat. You will have to stir it a lot. Maybe not constantly, but darn close to it. Keep stirring it until it boils. Then count to 60, so that it boils for a full minute. The pudding will thicken up considerably as it cooks.
Next crack your egg into a cereal bowl. Ladle a bit of the hot pudding into the bowl with the egg. Stir the egg up pretty fast (so it doesn't cook in the hot pudding) until it is well incorporated. Then scrape this egg/pudding mixture back into the saucepan. Whisk it up smooth. Bring the pudding back to a boil and then remove it from the stove. Drop in the margarine and measure in the vanilla. Stir the margarine in until it melts.
The egg is not completely necessary to this recipe, but in my opinion, makes it taste a whole lot better. Without the egg this pudding just tastes like sweet milk gravy to me. With the egg, it has a certain richness which elevates it to something special. I serve this sometimes with frozen strawberries, sometimes with chocolate syrup, and sometimes with pound cake. It can be used like a custard sauce if you like. I find it much easier to make than traditional custard, which is usually thickened only with egg yolks. With all of the distractions from the kids, dogs, cats and Fred, I can only make things which aren't too intimidating. This one definitely fits that category. This recipe makes about 8 servings. Pour it into small resealable plastic containers if you want to send it in a lunch box.
Note: To make a quart of reconstitued milk to use in this recipe, combine 3-3/4 cups of water and 1-1/3 cups of instant nonfat dry milk powder . Stir to combine and then use it for the milk called for above.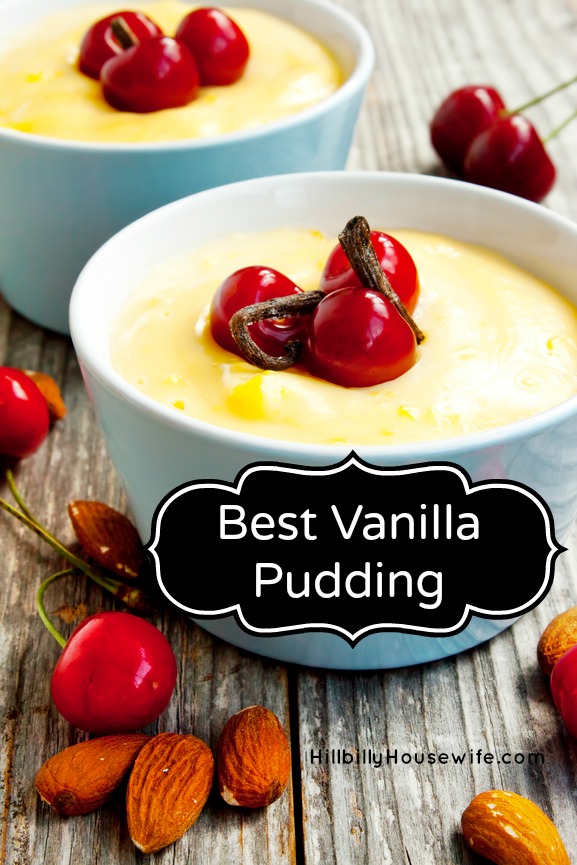 Disclosure: Some of the links below are affilate links, meaning, at no additional cost to you, I will earn a commission if you click through and make a purchase.