Use That Bacon Grease
It's Saturday morning and I have a big batch of bacon cooking in the oven. It already smells amazing and I know we all look forward to bacon sandwiches for breakfast with a side of cantaloupe. Yum! But to be honest, the main reason I'm cooking bacon today is because my bacon grease jar is getting ridiculously low and that's a serious problem.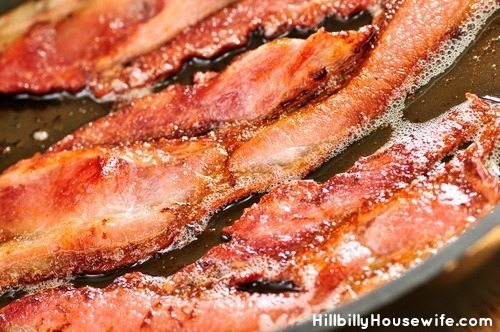 Cooking With Bacon Grease
I love cooking with bacon grease. It adds lots of flavor to any dishes you make. And it works much better than the non-cook  spray or regular cooking oil if you ask me. If I don't use it because I'm out, I don't want the bacon flavor in a dish, or because I'm making something completely vegetarian, I like using coconut oil. You cook with it the same way you use bacon grease.
I pour the the grease leftover from cooking a batch of bacon into a mason jar and keep it on the counter. If we're going to be gone for a while, I move it to the fridge, just in case. You can read more about storing bacon grease here.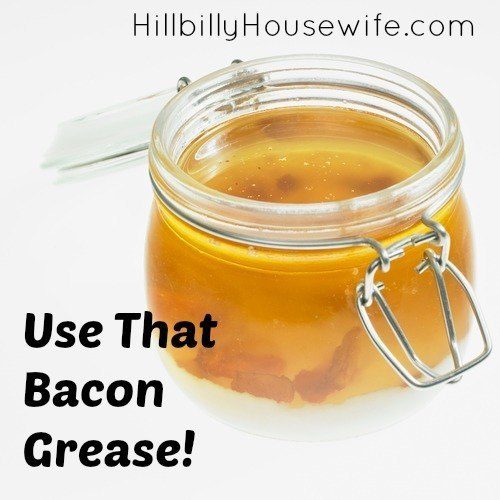 Try cooking your eggs in the grease. It adds some wonderful flavor. It's also what I use anytime I make pan fried potatoes. And let's not forget about soup. My favorite way to start just about any type of soup is by frying some chopped onion in bacon grease. You can also add a little garlic. Then add the water or broth and the rest of your ingredients.
Here's a great video with even more bacon cooking ideas. Have you tried making french fries this way? I bet it would be delicious.
What's your favorite thing to cook in bacon grease?
Creative Uses For Bacon Grease
Now I've got to be honest with you. I have never had enough  grease to do anything other than cook with it. We use it up faster than we "make more" by cooking bacon. But if you find yourself with an overabundance of grease, why not turn it into an emergency candle (bacon scented I'm sure). Here's how:
Or make some soap!
Disclosure: Some of the links below are affilate links, meaning, at no additional cost to you, I will earn a commission if you click through and make a purchase.