Use-It-Up Beef and Potato Hash
1 1/2 cup cooked beef, shredded and chopped
1 cup cooked chopped or mashed potatoes
1/2 cup finely chopped onion
1/4 cup chopped parsley
1 tsp salt
1/8 tsp black pepper
2 tsp. Worcestershire sauce
2/3 cup evaporated milk
1/3 cup bread crumbs mixed with 1 Tbsp melted butter
In large bowl, gently toss together the first ingredients together.  Spoon this mixture into a greased casserole dish.  Bake covered in a 350 degree oven for 20 minutes, then uncover and top with the mixture of bread crumbs and butter and bake 20  more minutes  or until nice and hot.
This recipe appears in MemoryLaneMeals – and is shared here with my friends at HBHW in hopes you'll find the recipe both fun and memorable.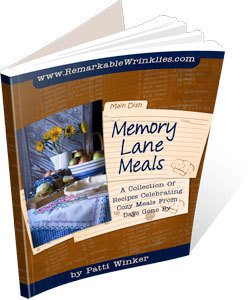 p.s. If you enjoyed this recipe, I think you'll find a lot more to enjoy in this ebook, Memory Lane Meals – A Collection Of Recipes Celebrating Cozy Meals From Days Gone By.
This collection has been put together by my friend Patti Winker of RemarkableWrinklies.com as a way to share her Trip Down Memory Lane – which often includes reminiscing about her growing up in a big family where food took front-and-center.
You'll find over 400 recipes in this incredible collection. These are the meals you would find in simple homes where families gathered around the kitchen table to get their fair share of big heaping bowls of hearty food. You'll even get a glimpse into Patti's world growing up in the 50s and 60s with a few stories and pictures thrown in!
Order your copy today and start enjoying the kind of old fashioned meals that brought generations together around the kitchen table – and maybe even create your own Memory Lane Meals.
Disclosure: Some of the links below are affilate links, meaning, at no additional cost to you, I will earn a commission if you click through and make a purchase.