Ukrainian Borscht Soup Recipe
Borscht is one of those universal dishes that you find all over this part of the world. Each country, each region and each family has their own variation on this dish (similar to what we do with Beef Stew for example). Here's a Ukrainian version for you to try.
Ukrainian Borscht Soup
1 (16 ounce) package pork sausage
3 medium beets
3 carrots
3 potatoes
1 tablespoon vegetable oil
1 medium onion, chopped
1 (6 ounce) can tomato paste
1/2 medium head cabbage
1 (8 ounce) can diced tomatoes
3 cloves garlic
salt and pepper to taste
1 teaspoon sugar
sour cream (topping)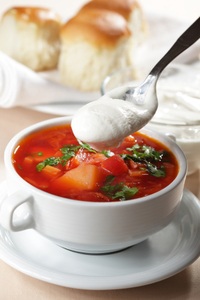 Start by peeling and shredding your beets. Lay some old newspapers on the table and put on your apron before you start. Beet juice will stain anything and everything! Do the same with your carrots and then peel and dice the potatoes. Chop your onion and shred the cabbage while you're at it.
I cook the entire soup in one large pot. Start by crumbling up the sausage and cook it until no longer pink. Add the chopped onion while the sausage is cooking and continue to saute until the onion is tender. Drain off all the fat. Fill the same pot about halfway with water. Bring it to a boil. This will go faster if you add a lid to the pot.
Once the water is boiling, add the beets, and cook until they are tender. Add the carrots and potatoes, and cook for 15 minutes. Add the cabbage, and then drain the juice from the canned tomatoes and add them as well.
Mince the garlic and add it to the soup along with your tomato paste. Turn off the heat, add a lid and let the soup stand for 5 to 10 minutes before serving. Season it with salt, pepper and a bit of sugar, then ladle it into bowls and top with a bit of sour cream.
Disclosure: Some of the links below are affilate links, meaning, at no additional cost to you, I will earn a commission if you click through and make a purchase.