Tuna and Rice Salad with Veggies
This is such a great summer salad. It's full of veggies, rice and tuna. It's a perfect example of healthy eating on a budget.
It's not just for summer though. Enjoy it as a yummy lunch throughout the year. You can make it ahead of time and pack it for lunch. Of course as with most of my recipes, you can easily swap out whatever veggies are in season, sitting in your fridge or growing in your garden.
This is also a great way to use up leftover rice. In fact, I often cook extra when I'm making rice for dinner to have for this, or other recipes calling for leftover rice.
Rice and Tuna Salad Recipe
Ingredients
1 Tbsp extra-virgin olive oil
2 tsp fresh squeezed lemon juice
1 tsp Dijon mustard
1/2 tsp sea salt
1/4 tsp black pepper
2 cups cooked brown rice, cooled
2 celery stalks, chopped fine
2 green onions, chopped
2 fresh Roma tomatoes, diced
1/2 cucumber, copped
2 cans (5 oz ea) white tuna packed in water, drained well
optional: corn, canned and drained
Instructions
Put the first 5 ingredients in a salad bowl and whisk until frothy.
Add the remaining ingredients to the salad bowl and gently toss until ingredients are coated well with salad dressing in bowl.
If desired, add in some yellow corn.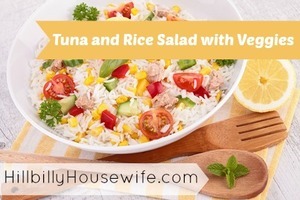 Disclosure: Some of the links below are affilate links, meaning, at no additional cost to you, I will earn a commission if you click through and make a purchase.