Traditional Reuben Sandwiches
My family loves, loves, loves Reuben sandwiches. And, the truth is, when we order them at a restaurant, we are usually disappointed. This is the recipe that we make now instead of ordering out. Hot off the skillet with the cheese all melted… there's no reason to get them anywhere else!
Reuben Sandwich Recipe
Ingredients
12 oz thinly sliced corned beef
butter, softened to spread
8 slices pumpernickel bread, or dark rye
8 slices Swiss cheese
1 1/2 cups good sauerkraut, drained
1/4 cup traditional Thousand Island dressing
Instructions
Lay 4 slices of bread out on a working surface. Divide the ingredients evenly between the 4 slices; first the cheese, then the dressing, then corned beef, and finally the sauerkraut, then top with the 4 remaining slices of bread.
Put a large skillet on burner set to medium heat. Butter top piece of bread, then place butter side down in skillet. When bottom bread slice is browned, butter the top slice and flip the sandwich over, cooking until bread is browned and cheese has melted. It may help to put a lid on the skillet for some of the cooking time to give the sandwich time to get hotter.
Cut and serve warm with a side of more Thousand Island dressing if you wish for dipping.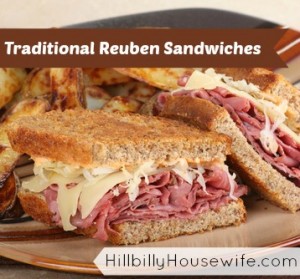 On St. Patrick's Day Everyone Can Be Irish

St. Patrick's Day gives us all an excuse to have some fun and eat delicious comfort foods.

Just thinking about corned beef, cabbage & soda bread give me goose bumps.  Those classic Irish dishes are among some of my favorite but it's fun when you can find new recipes that make your tummy happy.

Since St. Patrick's Day is just around the corner I thought it would be nice to put together some recipes and crafts and create a kindle ebook to celebrate.

You'll find delicious Irish food along with a bunch of crafts that your family will enjoy creating together.

And remember, with all Kindle ebooks, you don't need a Kindle to download them. Amazon makes it easy to put right on your computer, laptop, or other e-reader or device. And the price is right, too!
Disclosure: Some of the links below are affilate links, meaning, at no additional cost to you, I will earn a commission if you click through and make a purchase.