The Bargain Bin Cardigan
As you know I love knitting and am always looking for more frugal ways to find yarn. My friend Diana from WizardKnits.com has some great ideas to share with us today. She also kindly agreed to share one of her favorite baby sweater patterns with us. I think this would be a wonderful project to use all this bargain bin yarn for. Here's a pdf of the Drop Shoulder Cardigan.
And even if you aren't a knitter, take a look at her website and the beautiful custom sweaters she has to offer.
And here's Diana's article on bargain yarn finds:
If you ever come across someone rooting through the bargain bin at your neighborhood yarn store or working the aisles during a yarn sale at Joann's, Michael's or A.C.Moore, it's me.  The bargain baskets are veritable treasure troves. Some of my most expensive and sought after designs were knit with fabulous yarn discovered in the bargain bin.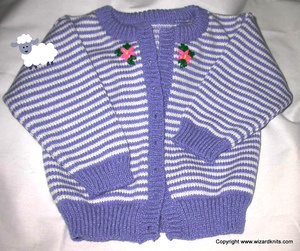 Fact is, I do not need to add to my stash but it is equally certain that I will find a purpose for even the smallest skein of yarn. I will probably add it to my embroidery palette.  Duplicate stitching is my favorite way to embellish a simple sweater.
When I find a few ounces each of different colors in the same weight, I make a quick mental note of the total yardage and I create a design before I've even paid for the yarn.
And so it was that I came across a few skeins "on sale" which were just too cute to pass up.  One was a beautiful lavender shade which reminded of the violet candies my grandmother had as a treat.  There was also a matching white yarn which would create a perfect contrast.  These were layette colors with a fine thread of nylon that gives it a subtle overall sparkle.
Fingering yarns have tremendous yardage (some close to 350 yards per 100 grams) so 1 skein goes a long way when knitting a tiny size.  Two skeins and you could knit a tiny saddle shoulder sweater and the coordinating sleeveless vest.   Pick a quick and simple pattern shape.  Let the colors create the patterning.
My favorite style for tiny sizes is the drop shoulder.  Not only are they quick to knit but the shape makes it easy to dress little people.
The Bargain Bin cardi was knit with two colors (same weight, same yardage) but some of the new variegated "sock" yarns would work just as well.  On a recent visit to Joann's, I noticed sock yarns which would be ideal for such a project.  No need to even calculate stripe placement.  Just knit!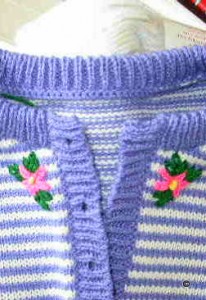 Check out the Red Heart® Anne Geddes Baby Yarn in colors like "Rocking Horse" for a young lady and "Sailboat" for the little man.  The yardage is fantastic and the care is as easy as machine wash and dry.  You may have to adjust the stitch and row gauge to achieve the same "size".
Do remember that solid colors almost always have greater yardage per skein than the variegated colors.    You don't want to be a few yards short of a completed knitting project.
You could do what I do…if it's on sale; I usually buy more than I know I will need because the extra yardage will eventually become part of another mini heirloom gift.
Attached is the pattern for our Bargain Bin Cardigan in the 12 months size.  The instructions were written for the knitting machine and fine four ply fingering yarn but they can easily be followed by hand knitters using the diagrams as their guide.
Most of my knitting patterns do not even include directions.  As long as I have an accurate stitch and row gauge, I follow the diagram and jot down some basic "shorthand" increase or decrease formulas along the side of the chart.
Let's see how many variations on a theme we can get from this simple design.
Happy Knitting!
Diana shares her handknit items and patterns at www.WizardKnits.com where she's created a full-fledged, custom sewing/knitting business as well as helping others learn "how to" knit.
Disclosure: Some of the links below are affilate links, meaning, at no additional cost to you, I will earn a commission if you click through and make a purchase.