Swiss Mocha Coffee Mix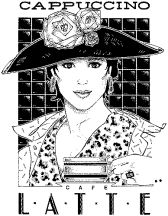 1/2 cup instant coffee
1 cup sugar
1 cup instant dry milk powder
1/4 cup powdered coffee creamer
1/4 cup unsweetened cocoa
1/4 cup vanilla flavored instant pudding mix (optional, but very good)
Measure all of the ingredients into a clean, dry bowl. Use a fork to combine everything evenly. If you are ambitious, you can powder everything in a blender. I don't always do this because I am lazy. You do get really impressive results from it though, and it is easier to do than one would expect. Transfer the mixture to a resealable container, or a pretty jar.
To Prepare: Measure 3 or 4 tablespoons into a coffee cup. Fill it up with hot water (about 3/4 cup) and stir to dissolve.
This is a very sweet and chocolaty coffee. It is almost as good as hot chocolate for curling up with on a cold winter night. If you decide to make it a bed time snack, then you might want to use decaffeinated instant coffee, instead of regular. The vanilla pudding mix makes your homemade mix dissolve better in water. It also gives a pleasant vanilla flavor to the coffee that marries perfectly with the rich chocolate.
If you liked this inexpensive beverage mix, you may also want to give my french vanilla coffee mix recipe a try. It's just as yummy, but without the chocolate flavor.
Disclosure: Some of the links below are affilate links, meaning, at no additional cost to you, I will earn a commission if you click through and make a purchase.