Stuffing Cakes With Turkey
Thanksgiving is over and we're all starting to get a little tired of eating leftovers. It's time to get creative and recombine ingredients to come up with something different and new. This year I started experimenting with stuffing cakes. Think of them as crab cakes with a Thanksgiving twist. Of course we're keeping it frugal and using leftover turkey instead of crab.
Stuffing Cakes
Ingredients
2 cups leftover stuffing
2 cups chopped turkey
1 cup chopped celery
1/2 cup mayonnaise
1/2 cup flour
2 tbsp mustard
1 egg
oil for frying
Instructions
Mix all ingredients except the oil in a boil and mix until well blended. Shape the mixture into 8 patties and set aside.
Heat oil in a large skillet over medium heat and cook the patties until they are golden brown on both sides. 5 minutes per side does the trick for me. Do not move them around any more than necessary and be gentle when you flip them over so they don't break.
I serve these with a side salad for lunch or dinner.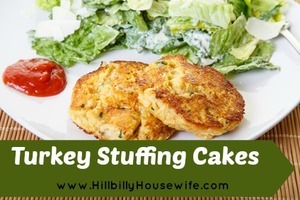 Disclosure: Some of the links below are affilate links, meaning, at no additional cost to you, I will earn a commission if you click through and make a purchase.