Strawberry Romaine Salad With Poppy Seed Dressing
We eat a lot of salads around here, especially in the warm summer months. They go great with grilled food and often make a main dish for lunch or dinner. I'm always on the lookout for a fresh take on eating our greens. Last summer I feel in love with the combination of strawberries and romaine lettuce. I played around with a few different versions and finally came up with this one that also includes cucumber, red onion and a yummy homemade poppy seed dressing.
You can make everything ahead of time. Just store your dressing in a little mason jar, shake it up and pour it over the salad right before you're ready to eat.
Romaine Salad With Strawberries
Ingredients
1 head romaine lettuce
1 pint fresh strawberries
1 red onion
1 cucumber
1/2 cup mayonnaise
2 tsp white vinegar
1/3 cup sugar
1/4 cup milk
2 tsp poppy seed
Instructions
Clean the lettuce and chop it into bite-sized pieces.
Wash and quarter the strawberries.
Peel and thinly slice the red onion.
Wash, peel and chop the cucumber.
Combine all of the fruit and veggies in a bowl.
Combine the remaining ingredients in a small bowl or jar. Pour over the salad right before serving.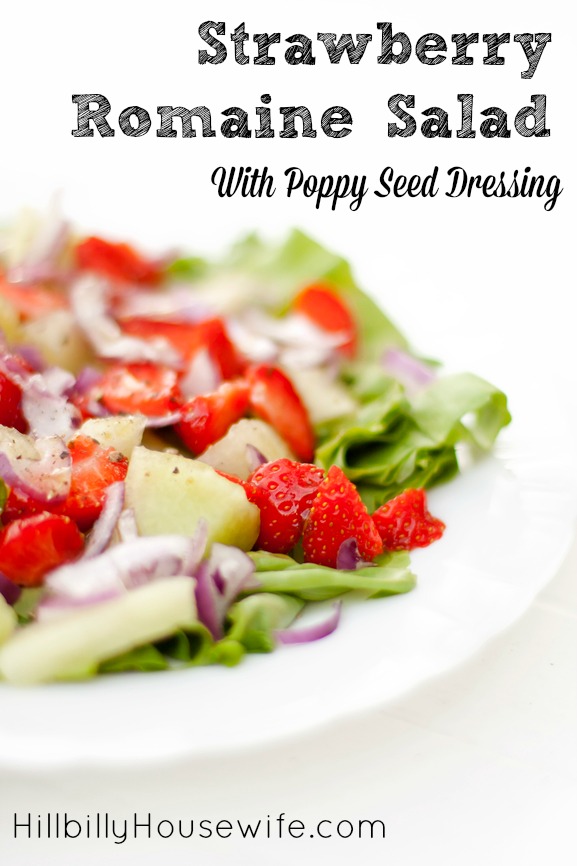 Disclosure: Some of the links below are affilate links, meaning, at no additional cost to you, I will earn a commission if you click through and make a purchase.