Strawberry Pineapple Freezer Jam
When strawberries are in season, I am always on the look-out for new recipes to use this family favorite.
We have plenty of regulars, even another strawberry freezer jam, but this recipe offers a little surprise – pineapple.  The flavors complement each other so well, and the texture is incredible.
If you're looking for a new freezer jam to make with your strawberries, give this one a try.  I think you'll be pleased. The flavors blend well and  who knows… strawberry pineapple freezer jam on toast may just become your favorite new breakfast treat as well. Of course this jam is great on things other than toast. Try it as an ice cream topping this summer.
Strawberry Pineapple Freezer Jam
Ingredients
1 to 2 pints fresh strawberries, washed, drained, and hulled
2 1/2 cups fresh pineapple, peeled and finely chopped
7 cups sugar
2 pkgs (1 3/4 oz) powdered pectin
1 cup cold water
4 pint size freezer containers with lids
Instructions
Place strawberries in a large mixing bowl and crush them with a potato masher. You'll use between 1 and 2 pints to get the 2 1/2 cups needed for jam, depending on the size of the strawberries.
Measure out 2 1/2 cups strawberries and place in a separate bowl.
Add the pineapple to the measured strawberries.
Slowly add the sugar and stir until well combined.
Place the cold water in a saucepan over medium heat and add the pectin.
Stir continuously until water begins to boil; boil 1 minute, then remove from heat.
Pour the water mixture into the fruit and stir well to combine; continue stirring 4 minutes.
Pour into pint canning jars or freezer containers; cover.
Let stand at room temperature for 24 hours, then put in freezer.
Jam will be just fine in the freezer for up to 6 months.
When ready to serve, remove from freezer and allow to come to room temperature, about 1 hour.
Always cover and refrigerate any uneaten portions; use within 3 to 4 weeks.
© 2023 Copyright www.HillbillyHousewife.com
Homemade Jelly and Jam Recipes
This  is a collection of 35 tried and true family recipes for jellies, jams, fruit butters, and marmalades from the Hillbilly Housewife.
Made from fresh fruit and ingredients that YOU control, these recipes not only taste better than store bought, they also allow you the chance to create some hand-me-down recipes of your own.
Don't worry if you've never made homemade jellies and jam before.  You'll find a section in the book that covers the basics of jelly and jam making, along with helpful tips and a FAQ section that will cover just about every question you have.  This little ebook is designed to make the whole process simple and easy.
Want to get started right away but don't have all the equipment you need to can jelly and jam? No problem! The freezer jam recipes are easy to make and you don't need any special equipment.
Take a peek at just a few of the recipes you'll find inside: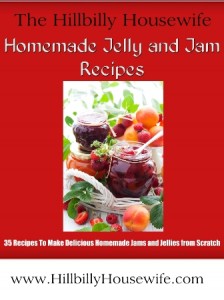 Strawberry Freezer Jam
    Grape Jelly
    Apple Jelly Made From Peels and Cores
    Red Currant Jelly
    Hot Pepper Jelly
    Peach Butter
    Apple Butter
    Orange Lemon Marmalade
    Fig Jam
    Strawberry Rhubarb Jam
    Apricot Jam
Click on and enjoy this fun and frugal Kindle ebook today!
Disclosure: Some of the links below are affilate links, meaning, at no additional cost to you, I will earn a commission if you click through and make a purchase.