Strawberry French Toast or Pancake Topping
This is such a simple little strawberry topping recipe. I love making it to top pancakes, french toast, waffles or even ice cream. It goes together quickly. You can use either fresh or frozen (an thawed) strawberries.
Give it a try when you're in the mood for a little something special for breakfast. Perfect when you have overnight guests and of course a must-have for Mother's Day.
Strawberry Topping
Ingredients
1/2 C. maple syrup
2 T. orange juice or Grand Marnier
3/4 C. pureed strawberries
Instructions
Combine all ingredients in a small pan. Stirring constantly, heat mixture over medium heat until it begins to thicken (approximately 5 minutes). While still warm, pour over French toast or pancakes and serve immediately.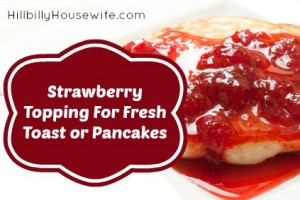 Disclosure: Some of the links below are affilate links, meaning, at no additional cost to you, I will earn a commission if you click through and make a purchase.