Steamed Asparagus With Pine Nuts
One of my resolutions for this year is to cook more healthy food and to get a little more adventurous when it comes to cooking my veggies. I usually just boil asparagus or roast it with a little olive oil and salt. This version is steamed and the pine nuts add a nice bit of crunch. If you're not a big fan of pine nuts, try some chopped almonds or even walnuts instead. I love the addition of vinegar. It adds a nice bit of tang to the dish, making it much more satisfying without adding calories.
All in all this is a winner and will make an appearance on our dinner table much more regularly, especially in the spring when there is plenty of fresh asparagus to be found at the grocery stores and the farmers market.
Steamed Asparagus With Pine Nuts
Ingredients
1 bunch of asparagus
1 tablespoon olive oil
1/2 tablespoon red wine vinegar
Salt and pepper
Chopped pine nuts
Instructions
Cut the ends of the asparagus stems and steam the spears for about 3 minutes.
Once the asparagus has steamed, over medium heat, heat the olive oil. Add the red wine vinegar and asparagus and saute for about 2 minutes. When the asparagus starts to brown slightly it's ready. Season it with salt and pepper and topped with chopped nuts.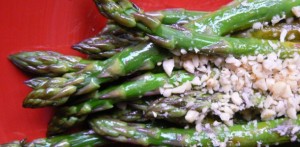 Disclosure: Some of the links below are affilate links, meaning, at no additional cost to you, I will earn a commission if you click through and make a purchase.