Spinach Cheese Bake
I don't have to tell you that dark leafy greens like spinach are good for you. The hard part is getting used to eating them, especially if you have small children. My solution is to add a little cheese to the mix. This recipe calls for quite a bit of cheese. If your solution (like mine) is to eat a little healthier this year, start reducing the cheese a bit every time you make it until there's just a bit of Swiss cheese covering the yummy spinach.
Spinach Cheese Bake
Ingredients
1/4 cup butter
1 chopped onion
2-3 minced garlic cloves
1 bunch spinach
1 1/2 cups shredded Swiss cheese
Instructions
Preheat your oven the oven to 350 F
Over medium heat, heat the butter. Once it's melted, add the onion and garlic, sautéing until tender.
Add the spinach and mix with a wooden spoon to coat the spinach. Reduce the heat to medium low and cover your pan with a lid. Let it cook for about 3 minutes.
Now you're ready to get your casserole dish ready. Put half the shredded cheese on the bottom of the casserole. On top, place all the spinach mixture. Then top with the remaining shredded cheese.
Bake uncovered, for about 20 minutes or so, or until the cheese begins to bubble.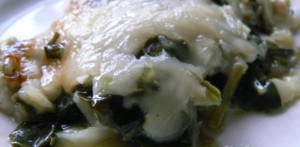 Disclosure: Some of the links below are affilate links, meaning, at no additional cost to you, I will earn a commission if you click through and make a purchase.