Spinach and Pasta
I love simple dishes that can be trown together in minutes. This particular one  is healthy and perfect for those days when you're eating a little healthier and cutting out meat. It's also quite frugal. Feel free to use any cheese you like with this dish.
This recipe comes from my good friend Christine – The Menu Mom. I highly recommend her meal planning service.
Spinach Pasta Toss
1 can  (14-1/2 oz.) Italian-style diced tomatoes, undrained
2 cups  multi-grain penne pasta, uncooked
1 cup  water
1 pkg.  (9 oz.) baby spinach leaves
1 cup  Italian cheese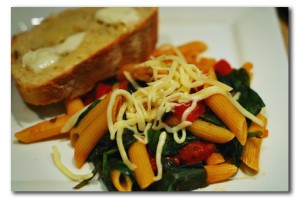 Bring tomatoes, pasta and water to boil in large saucepan; stir. Cover; simmer on medium-low heat 10 min. or just until pasta is tender.
Add half the spinach; simmer, covered, 2 min. or just until wilted. Stir. Repeat with remaining spinach.
Serve topped with cheese.
Disclosure: Some of the links below are affilate links, meaning, at no additional cost to you, I will earn a commission if you click through and make a purchase.