Spicy Chicken Tomato Soup
I needed a quick lunch yesterday and started to dig through my pantry. I came up with a large can of diced tomatoes, a can of chicken and a can of green chili… thus my spicy chicken tomato soup was invented. I love these simple, throw-together recipes and this one will quickly become a family staple. Serve it with a slice of homemade bread or some cheese quesadillas for a filling lunch or a simple dinner.
Spicy Chicken Tomato Soup
Prep time:
Cook time:
Total time:
Ingredients
1 large (28 oz) can of diced tomatoes
1 can of chicken (8-10 oz depending on brand)
1 small can of green chilis (4 oz)
Instructions
Put the tomatoes, chicken and chilis with juice and everything into a medium sized pot. Bring to a boil and simmer for about 15 minutes. Season with salt, pepper and if desired a little chicken bullion powder.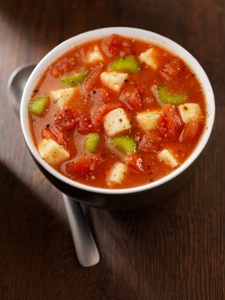 If you're not a big fan of spicy things, add a few diced bell peppers or some chopped celery to the soup. Turn it into a vegetarian version by using tofu instead of chicken. This recipe will work well with any type of canned tomato product. Feel free to use whole tomatoes and break them up a bit as  you cook, or go with crushed tomatoes for a smoother soup.
The Hillbilly Housewife Recommends:
Cooking from the Pantry:  The Busy Mom's Guide to Creating Fabulous No-Fuss Meals in 30 Minutes or Less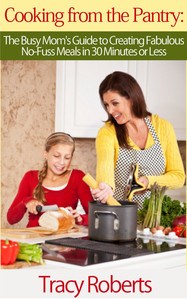 As a busy mom, you know that sometimes dinner time rolls around and you have no clue how to answer, "What's for dinner?".
Tracy Roberts knows how that goes but she's figured out a way to make delicious meals, in 30 minutes or less, that her family enjoys so much that they ask for more.  She shares her strategy in her Kindle ebook, Cooking from the Pantry: The Busy Mom's Guide to Creating Fabulous, No-Fuss Meals in 30 Minutes or Less.
Included inside are Tracy's basic grocery list, a list of meals she creates from it and a few of her family's favorite recipes. Click here to get your copy today www.hillbillyhousewife.com/pantrycookbook
Disclosure: Some of the links below are affilate links, meaning, at no additional cost to you, I will earn a commission if you click through and make a purchase.