Southern Collard Greens
Around here it's a tradition to eat Collard Greens on New Year's Day. But don't stop there. These delicious leafy green vegetables cooked in crispy bacon with some onion, garlic and spices are delicious all winter long. Put on a pot of these, let them cook for a good 2 hours and make sure you have some corn bread baking to soak up the pot liquor.
6 slices of bacon
1 onion
1/2 up of ham
2 cloves of garlic
1 bunch of collard greens
water
1 chicken bullion cube
1 tbsp apple cider vinegar
1 tsp sugar
salt and pepper to taste
Start by preparing your collards. Wash them, trim the stems and chop or slice the greens. Set aside.
Chop the bacon slices and cook them in a large pot over medium heat until the bacon is crispy.
Dice the onion and add it to the pot. Cook until the onion starts to soften. Crush the garlic and add it to the pot as well. Cook until the garlic is fragrant.
Add your collard greens and add about a cup and a half of water. Add the remaining ingredients. Cover and cook on low for 2 hours. The greens should be nice and tender at this point. Keep an eye on the pot while it cooks and add more water if needed.
I like a sprinkle of Parmesan cheese on my greens but that's entirely optional. A dash of your favorite hot sauce or some red pepper flakes don't hurt either.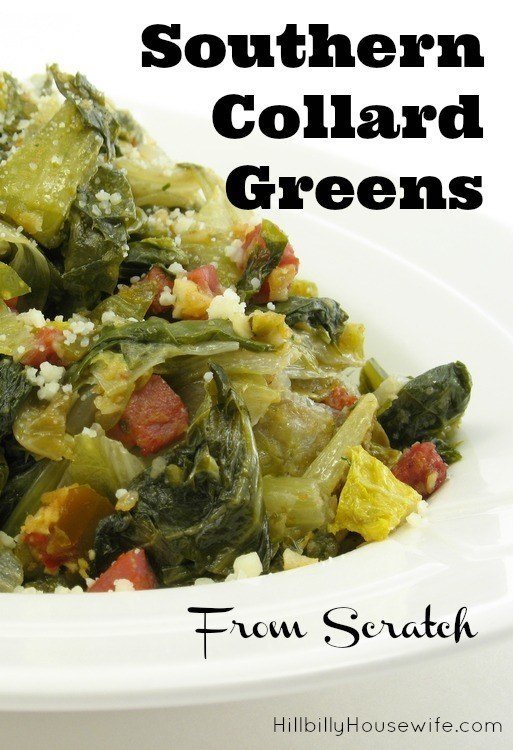 Disclosure: Some of the links below are affilate links, meaning, at no additional cost to you, I will earn a commission if you click through and make a purchase.