Simple Snack Ideas
Ants on a Log:  Take clean celery sticks and cut them into 5 or 6 inch lengths. Spread peanut butter down the center of them, and then lay raisins on top of the peanut butter. This is a favorite of my kids.
Snow on the Chimney:  Similar to the one above, except you use cream cheese instead. Grown-ups tend to like this one better than the kids.
Popcorn: Popcorn, popped on the stove, or in a pop-corn popper is one of the greatest inventions ever. I use 1/4 cup (half a stick) of margarine to coat every large bowlful of popcorn.
Boiled Eggs: or Deviled Eggs, both make great snacks. Whenever I boil eggs, I do at least a whole dozen to make sure there are enough to fill up all the empty spaces growing children seem to have.
Vegetable Sticks: Celery and Carrot sticks most often, but Broccoli, radishes, turnip slices, green pepper and summer squash also show up regularly.
Fruit: Fresh fruit like apples, oranges, bananas and all others in season make super snacks. Dried fruits are also good, raisins, apricots, banana chips etc. Canned fruit, especially pear halves, peach halves and pineapple slices all have good kid appeal.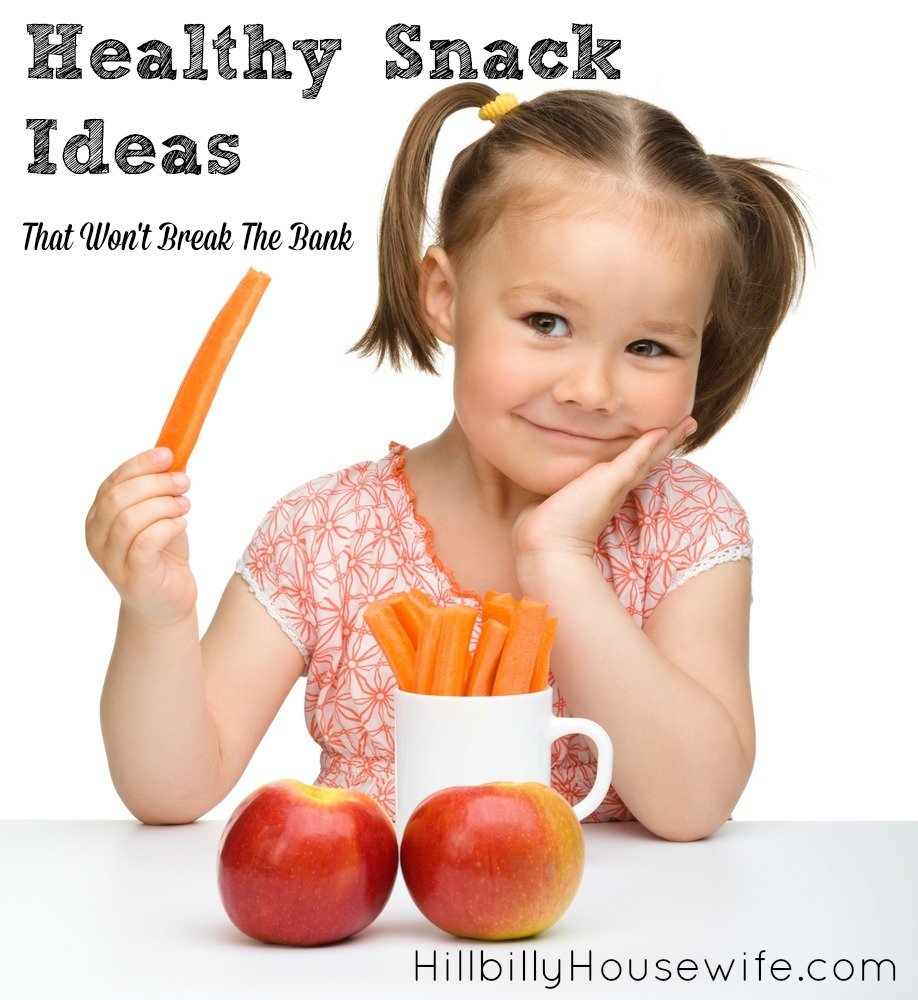 Crackers and Cheese: Cut cheese into small squares and serve them on a plate with a sleeve of saltines. The kids like to arrange little sandwiches out of them. Baloney, cut into small triangles is nice to add too.
Crackers and Peanut butter: Saltines with peanut butter are delicious. You can top them with raisins, banana slices, or substitute cream cheese for the peanut butter Jelly is also good with peanut butter, or cream cheese, or by itself.
Tortilla chips with cheese: Place a big pile of tortilla chips onto a large plate. Sprinkle them liberally with cheese and microwave until the cheese is melted. This can be done in the oven too, on a pizza pan, or cake tin. Serve with salsa if desired.
Kid Kabobs: Kids really love these, but some grownups like 'em too. You need toothpicks, cheese cubes, pineapple or banana chunks, and meat chunks. I have used cubed spam, ham chunks, and hot dog slices successfully. Other things could be used too, just look in the fridge and use your imagination. Be sure to let the kids thread their own kabobs. This is the snack's main attraction.
Disclosure: Some of the links below are affilate links, meaning, at no additional cost to you, I will earn a commission if you click through and make a purchase.