Slowcooker Roasted Chicken
I love a nice roasted chicken. Not only does it make for a great Sunday dinner, but you can also pull some of the meat of the bones and add it to other meals throughout the week. And let's not forget about the bones. They are a great base for making your own chicken stock to use as the base for soups and stews.
The only problem with roasting chicken is that it takes some time if you're cooking it in the oven. I often found it easier to just grab a hot and ready roasted chicken at the grocery store.
That is until I figured out how easy it is to cook a chicken in the crockpot. It takes only a few minutes to prep and then practically cooks itself. I can start it in the morning and have it ready by dinner. It's less than half the price of a cooked chicken from the store and I know exactly what's in it and what it's seasoned with.
Give the recipe below a try. Feel free to experiment with the seasonings. Add some celery to the bottom of your slow cooker and mix and match your favorite spices and herbs. Add some garlic or onion powder, some thyme or rosemary to come up with different flavors.
Slowcooker Roasted Chicken
Prep time:
Cook time:
Total time:
Ingredients
1 whole chicken
1 large onion
2 tsp paprika
1 tsp salt
1/2 tsp ground pepper
Instructions
Take out your chicken and remove any giblets. Rinse the chicken thoroughly and pat it dry.
Season the chicken with salt, pepper and paprika.
Thickly slice your onion and add it to the bottom of your slow cooker.
Lay the chicken on top of the onion.
Cook on High for 4 to 5 hours or until the chicken is done. I cook mine until the meat starts to fall of the bone.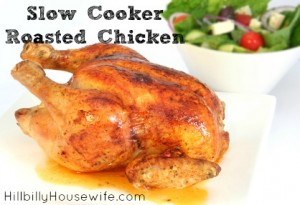 Save the bones from that chicken and tomorrow I'll show you how to make a fabulous chicken stock from them in the slowcooker.
Disclosure: Some of the links below are affilate links, meaning, at no additional cost to you, I will earn a commission if you click through and make a purchase.