Slowcooker Chicken Broth
Yesterday I shared a great recipe for roasting a chicken in the crockpot. Today, I want to tell you know to take the leftovers from that meal and make a wonderful chicken broth that you can then use as the base for soups and stews or just sip throughout the day.
This is a great way to make that one chicken go even further. Make the stock instead of buying chicken broth in a can or box. Take some of the stock along with a little of the meat from the chicken and whatever leftovers veggies you have in the fridge. Add a little rice and you have a delicious meal that's also good for you. Best of all, it cost you almost nothing. Frugal cooking at it's best.
Slowcooker Chicken Broth
Ingredients
1 chicken carcass
water
1 tbsp apple cider vinegar
salt and pepper to taste
onion (optional)
carrots (optional)
celery (optional)
herbs and spices (optional)
Instructions
Add the chicken carcass to your slow cooker.
Fill the slow cooker to within an inch with water.
Add the apple cider vinegar.
Add salt and pepper to taste.
Add veggies, herbs and spices as desired.
Cook on low for 12 to 24 hours. The longer your stock simmers, the better it gets.
Strain through a colander and store the finished stock in the fridge for up to a week (or freeze for up to 6 months).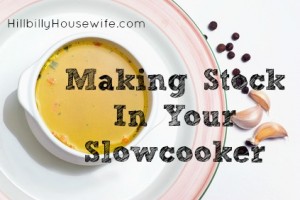 Disclosure: Some of the links below are affilate links, meaning, at no additional cost to you, I will earn a commission if you click through and make a purchase.