Slowcooker Chicken and Biscuits
Some days you just need to curl up with a nice bowl of comfort food. And is there anything better than chicken and dumplings? Sure, it's nice to make everything completely from scratch and I do that quite a bit. But there are also days that you know you'll be busy or are just not able to stir pots for a day and a half. That's where this slow cooker recipe comes in. It's quick, easy and basically cooks itself.
Easy Crockpot Chicken & Biscuits 
4 skinless, boneless chicken breast, or 6 thighs
2 tablespoons butter
2 (10oz) cans condensed cream of chicken soup
1 onion
2 (10oz) packages refrigerated biscuits
Put the chicken in the bottom of your slow cooker. Cut the butter into slices and lay them on top of the chicken. Pour the condensed soup (undiluted) over everything.
Dice the onion finely and sprinkle on top. Fill the crock with enough water to cover everything.
Cover and cook on high for 5 hours. Take out the biscuits and tear the dough into bite sized chunks. Put them in the crockpot. Cover and cook until the dumplings are done – about 30 to 40 minutes. Serve right away.
Modifications:
If you're up to a little extra work and are avoiding store-bought convenience foods, I have some modifications for you. Replace the cream of chicken soup with this cream of anything soup mix and add some chicken bouillon for flavor.
For the biscuits make a batch of Paula's Freezer Biscuits. Allow enough for this recipe to thaw in the fridge (or store them in the fridge if you just made them) and freeze the rest. Follow the recipe as directed.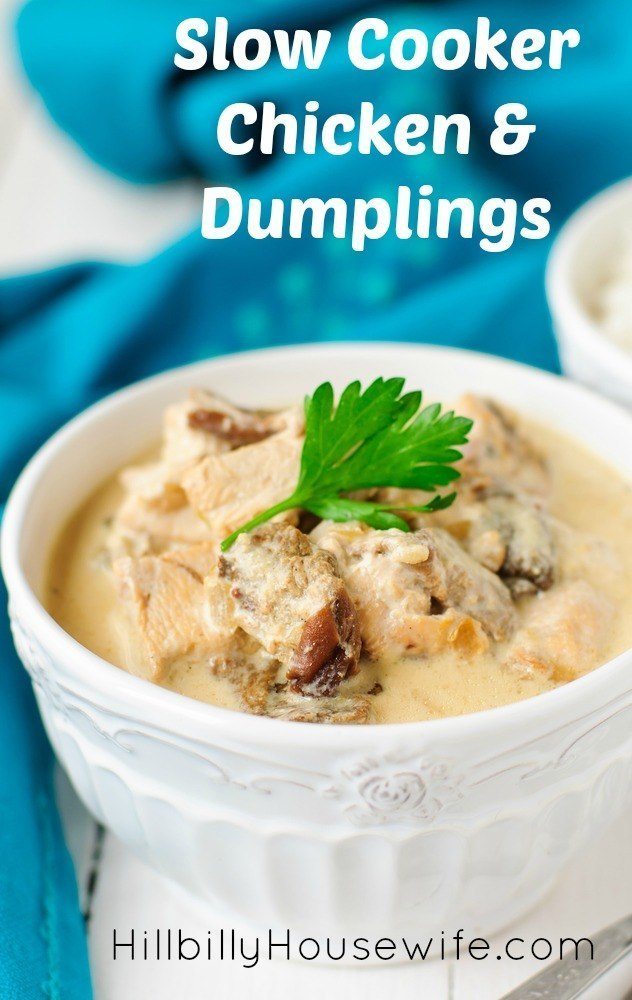 Disclosure: Some of the links below are affilate links, meaning, at no additional cost to you, I will earn a commission if you click through and make a purchase.