Slow Cooker Pinto Beans
Do you like the idea of cooking dried beans from scratch, but don't think you have time to stir the pots for hours and hours?
I have a great solution for you. Cook your beans in your slowcooker.
Yes, it takes a little planning ahead, but you'll come home to a nice big pot of cooked beans. I serve this with my favorite cornbread and some chopped onion.
From the "Thrifty Bean Cookbook" (Kindle Cookbook)
Pinto Beans From the Slowcooker
Ingredients
1 lb. dry pinto beans
4 cups water
1/2 lb. ham hocks
1/2 tsp. oregano, dried
1 tsp. chili powder
1 large onion, chopped[br]
[b]House Seasoning:[/b][br]
1/4 cup garlic powder
1 cup salt
1/4 cup pepper
Instructions
Soak the beans in cold water overnight. Drain and dump into a slow cooker. Add the oregano and chili powder and stir to mix.
In a separate pot, soak the ham hock for 2 hours. (You can also soak, refrigerated, overnight if you wish). Add to the slow cooker and add the liquid from soaking the ham. If the ham hock is not fully covered, add more water. Now add the onion and stir well.
Now make the house dressing by mixing together the garlic powder, salt and pepper. Use this seasoning to season the beans.
Cover the slow cooker and cook on high for about 5 hours or until beans are very tender.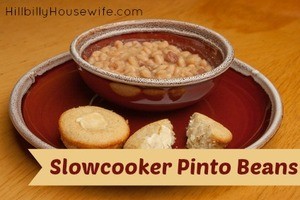 Disclosure: Some of the links below are affilate links, meaning, at no additional cost to you, I will earn a commission if you click through and make a purchase.