Slow Cooker Collard Greens
Down here we traditionally eat ham, collard greens and back-eyed peas on New Year's Day. This year I'm going to make my collard greens in the slow cooker and thought I'd share the recipe with you. Just get them started around lunch time and by dinner they will be delicious and tender. Flavor and texture is the main reason I started cooking my greens in the slow cooker. Because of the large volume of the raw greens, I saute them in my largest pot first to give them a chance to shrink down a bit before adding them to the crockpot.
Crockpot Collards
Prep time:
Cook time:
Total time:
Ingredients
leftover ham / ham bone
5 lb collard greens
2 tbsp olive oil
1 large yellow onion
4 garlic cloves
2 cups chicken broth
1 tbsp apple cider vinegar
1 tbsp sugar
2 tsp salt
dash of black pepper
dash of cayenne pepper (optional)
Instructions
Start by prepping your collard greens. Pull the leaves from the stems. Discard the stems. I like to add them along with any other raw veggie pieces to a freezer bag and use them down the road to make broth. Tear the leaves into bite-sized pieces.
Wash and dry the collard greens.
Heat the olive oil in a large pot over medium heat. Add the onion and garlic and cook until the onion has softened. I find it helps to add a dash of salt to the onion mixture.
Increase the heat and add the chicken broth. Bring the mixture to the boil, then start adding your greens. Add as many as will comfortably fit, allow them to wilt down, then add more.
Add the ham bone or leftover ham pieces to the bottom of the slowcooker. Pour the collard mixture on top. Add the vinegar, sugar, salt, pepper and cayenne pepper and stir to combine.
Cover and cook for 4 hours on high or 6 hours on low.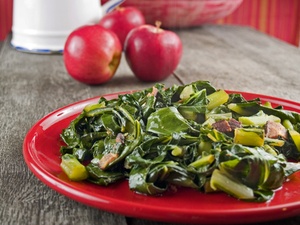 Disclosure: Some of the links below are affilate links, meaning, at no additional cost to you, I will earn a commission if you click through and make a purchase.