Simple But Rich Chocolate Fondue
I remember having a little chocolate fondue pot as a child. It was one of those simple ones with a tea light in the bottom. I loved getting it out and "making" dessert for my parents and my sister. While I don't have the fondue pot anymore, I've enjoyed sharing the same fun tradition with my daughter. She makes it now and digs around the cabinets for yummy things we can dip in the melted chocolate. It's a perfect fun little recipe to try this Valentine's Day (or just for fun any time).
Simple But Rich Chocolate Fondue
Ingredients
6oz heavy whipping cream, reserve 1/4 cup to thin if fondue begins to thicken
12oz chocolate (about 4 bars, chopped)
Instructions
Heat the cream in a heavy pot over medium heat until the cream comes to a low boil. Remove the pan from the heat and add the chocolate, gently stirring to mix well. If the fondue becomes too thick, add a small amount of cream until the fondue reaches your desired consistency.
Now comes the fun part! You get to dip things into the chocolate and eat them. You can use fondue forks, regular forks or even bamboo skewers to dip the treats in the melted chocolate.
Here are some suggestions:
Biscotti or other cookies
Marshmallows
Pretzel Sticks
Strawberries (with stem attached)
Fresh pineapple (diced)
Banana slices
Orange sections
Sponge cake cut into squares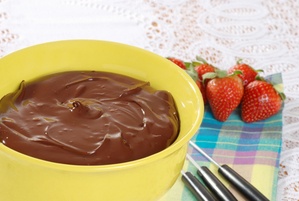 Disclosure: Some of the links below are affilate links, meaning, at no additional cost to you, I will earn a commission if you click through and make a purchase.