Shepherd's Pie Recipe
This humble shepherd's pie recipe has a lot going for it. It's frugal, a great way to use up leftover mashed potatoes and veggies and with the potatoes and cheese it's perfect comfort food.
I also love the fact that it's a complete meal in one dish. Once it's done, dinner is ready and there isn't a whole lot of cleanup after. It also reheats quite well the next day should there be any leftovers (in my house there usually isn't).
From the "Cook Once – Eat Twice" Cookbook
http://hillbillyhousewife.com/ebooks/eat-twice.htm
Shepherd's Pie Recipe
Ingredients
6 Tbsp butter, divided
1 small onion, diced
1 stalk celery, diced fine
1 cup corn kernels
1/2 cup frozen green peas
1 tsp Worcestershire sauce
1/2 tsp dried thyme
1/2 to 3/4 cup beef broth
3 cups cooked ground or shredded beef
salt and pepper to taste
4 cups cooked mashed potatoes
1/2 cup shredded Cheddar cheese
Instructions
Put 2 tablespoons of the butter in a 10 to 12 inch cast iron skillet over medium heat, add the onions and celery and cook until softened.
To the skillet, add the corn, peas, Worcestershire sauce, thyme, beef broth, cooked beef, salt, and pepper; stir. (Add more beef broth if desired.)
Reduce the heat to low and simmer slowly for 5 to 7 minutes, uncovered.
Turn oven on to 400 and allow to preheat.
Put the mashed potatoes in a bowl and add the remaining 4 tablespoons of butter and mash until well combined.
Remove skillet from heat and gently spread the mashed potatoes on top of the beef mixture in skillet.
Put the skillet in the preheated oven and bake for 15 minutes or until potatoes get golden brown.
Remove the skillet and sprinkle the Cheddar cheese over the top, then return the skillet to the oven and bake another 8 to 10 minutes or until the cheese is melted and bubbling hot.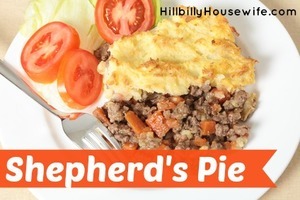 Disclosure: Some of the links below are affilate links, meaning, at no additional cost to you, I will earn a commission if you click through and make a purchase.