Sausage Spinach Bean Soup
This soup is so perfect on a cold and rainy day like today. I love the hearty flavor and between the sausage and the beans it's a filling meal. Just add some biscuits or a slice of homemade bread.
The recipe is great for using up leftover beans. In fact, I make sure I have enough to be able to throw together this quick dish the next day. It's an easy way to cook once and eat twice. I make a big pot of beans one day and serve them with cornbread and then use the leftovers in a yummy pot of soup like this the next day.
For more delicious homemade soup and stew recipes, check out Soups, Stews & Supper Stretchers.
Sausage Spinach Bean Soup
Ingredients
8 oz. pork sausage
1/2 cup onion, chopped
2 (19 oz.) cans of Great Northern beans, rinsed and drained
2 cup fresh spinach, washed and chopped
1 (14 oz.) can chicken broth
1 tsp dried thyme
1/4 cup Parmesan cheese, fine shredded
Instructions
Crumble the sausage into a soup pot, stir in the onion.
Place the pot over medium heat.
Cook the mixture for 5 minutes, stirring often, until the sausage is cooked.
Add the beans to the pot and stir.
Pour the chicken broth into the pot, add the thyme.
Bring the soup to a boil then reduce the heat to low.
Cover and simmer for 5 minutes.
Stir in the spinach and continue cooking 5 minutes or until the spinach is wilted.
Sprinkle with the Parmesan cheese before serving.
Makes 4 servings.
 Variation:
Add some spiral pasta during the last 10 minutes of cooking time for a more filling dish.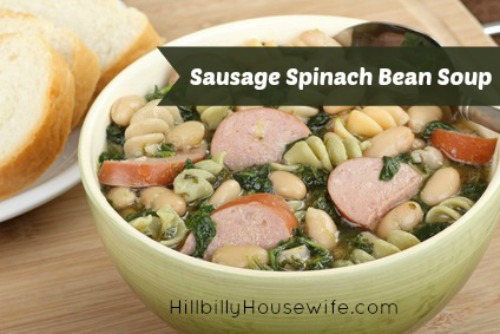 For even more delicious homemade soup and stew recipes, don't miss this Kindle Cookbook: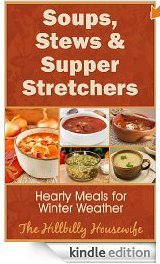 We all have favorite comfort foods that we make over and over to warm us up during cold weather. It's nice to have a few classic dishes to fall back on, but isn't it also fun to find new favorites?
That's exactly what you get in this fun little Kindle ebook – Soups, Stews, and Supper Stretchers
You'll find hearty, filling meals to make you feel cozy and warmer when the weather is gloomy, cold, and dark. Whether you're snowed in or it won't quit raining, these dishes will have you feeling brighter in no time.
Pick it up today and enjoy a warming bowl of comfort food anytime you try one of these recipes.
Soups, Stews and Supper Stretchers
Disclosure: Some of the links below are affilate links, meaning, at no additional cost to you, I will earn a commission if you click through and make a purchase.