Rosemary Sweet Potato Slices
These sweet potatoes are a simple but delicious addition to any holiday table. They are quick and easy to make and since the potatoes are sliced, they don't take long to bake up. I love how wonderful the rosemary makes the house smell any time I bake these. It's a perfect Holiday recipe since all the prep work can be done early in the morning. When you're ready, just arrange the sweet potato slices on a baking sheet and put them in the oven right before your guests arrive.
Rosemary Sweet Potato Slices
Ingredients
4 Large Sweet Potatoes
Olive Oil
1 pkg. Fresh Rosemary, chopped
Sea Salt
Instructions
Wash, peel and cut sweet potatoes.
Slice sweet potatoes into slices roughly a quarter of an inch thick. (1 potato generally serves 3-4 people.)
Place sliced potatoes on paper towels and sprinkle well with sea salt.
In a large Ziploc bag, mix 3-4 cups of olive oil with the package of chopped rosemary.
Add the sweet potatoes to the bag of olive oil and rosemary and allow to set for a few hours.
Remove sweet potatoes and place on a foil-lined cookie sheet. Bake for approximately 20 minutes at 425 degrees Fahrenheit.
Sprinkle with sea salt right before serving.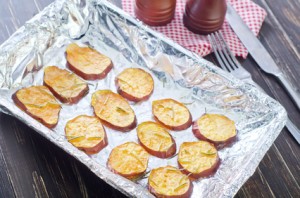 This is also a simple recipe you can make any night of the week. I love these in the summer time when my husband is grilling some meat or chicken.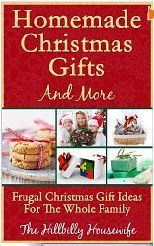 Would you like to steer clear of the holiday shopping crowds? You can with this guide to Homemade Christmas Gifts and More.
Making Homemade Christmas gifts is one way to actually enjoy the process of gift-giving. Not only are homemade gifts and decorations frugal, they're more fun!
We don't have to rush out to the mall to shop for Christmas when we have ideas for creating gifts right at home. Take time to enjoy your holiday season. Click on and download now to start planning your frugal AND fun Christmas.
www.hillbillyhousewife.com/christmasbook
Disclosure: Some of the links below are affilate links, meaning, at no additional cost to you, I will earn a commission if you click through and make a purchase.