Replacing Buttermilk With Yogurt In Baking
I don't buy buttermilk very often. I do get a half gallon around the holidays  to make an even tastier cornbread dressing. Throughout the rest of the year, I either make a buttermilk substitute from fresh milk and vinegar, or I use yogurt. That's right. You can use the two interchangeably. Here's what you need to know about replacing buttermilk with yogurt in baking.
You can substitute plain yogurt at a 1:1 ratio for buttermilk.
If you're using Greek yogurt, thin it out with a bit of milk before substituting the same way.
For sweet baked goods, vanilla yogurt may be used. You can even get adventurous and try some of your favorite fruit flavored versions. Use what you have on hand.
If you think ahead,  you can make a fresh batch of homemade yogurt to use in your baking.
Give it a try in your favorite baking recipes. This simple buttermilk substitution has yet to fail me.
For more recipes for simple mixes and "convenience foods" that you can make yourself, check out:
Homemade Mixes – Make It Yourself and Save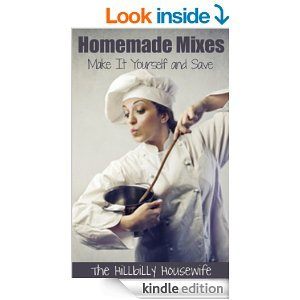 Making your own mix from scratch rather than buying it in the store not only saves you money but also saves you from all the additives and preservatives that are put in the foods we buy. The recipes include:
Apple Pie Spice Mix
Basic Muffin Mix
Brownie Mix
Caribbean Jerk Seasoning
Chocolate Chip Cookie Mix
Corn Bread Mix
Cream of Soup Mix
Fajita Seasoning
Fish Fry Coating Mix
Fruited Oatmeal Mix
Homemade Taco Seasoning Mix
Homemade Vanilla Chai Tea Mix
Disclosure: Some of the links below are affilate links, meaning, at no additional cost to you, I will earn a commission if you click through and make a purchase.