Recipe For Grape Ice Cream
My 8-year-old is a big fan of grapes. She loves them for snack, grape juice, grape jelly… you name it. With my recent obsession with making ice cream she's been asking for grape ice cream. We tried a few different recipes and after some little tweaks we came up with the recipe for grape ice cream below.
Enjoy!
Homemade Grape Ice Cream
1 (12 ounce) can frozen grape juice concentrate
2  cups sugar
1/2 cup fresh lemon juice
1 (12 ounce) can evaporated milk
1 pint half-and-half
2 cups milk
Thaw the grape juice, then stir in the sugar until it is dissolved. Add the lemon juice, then the milk products. Stir until everything is well combined. Chill the mixture in the fridge, then pour it into your ice cream maker. Follow the manufacturer's directions.
You can also pour everything into a large stainless steel bowl or even cake pan. Stick it in the freezer. Take it out every 15 to 20 minutes and use a plastic spatula to stir everything up and break up the little ice crystals that will start to form. The more you stir it up, the creamier your finished ice cream will be.
This turned out a bit to sweet and "grapey" for me, but my daughter loves it.
For more delicious homemade icecream recipes, grab a copy of the Homemade Ice Cream and Other Frozen Treats ebook here.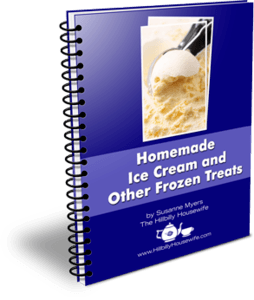 You'll find instructions for making ice cream with and without an ice cream maker and 100 recipes for ice cream, frozen yogurt, sorbet, sherbet and popsicles. Get your copy today!
Disclosure: Some of the links below are affilate links, meaning, at no additional cost to you, I will earn a commission if you click through and make a purchase.