Ranchos Huevos Burrito
I love Huevos Rancheros, but don't often have the time to make them for breakfast. This "to-go" version is a great alternative that also makes for a yummy, healthy lunch.
2 large eggs
salt and pepper to taste
2 Tbsp canned black beans (or other beans you liked)
1 Tbsp chunky salsa, any you like
1 Tbsp shredded cheese, any you like
1 whole wheat (or other healthy choice) 8″ size tortilla (warmed in oven or dry skillet if you like)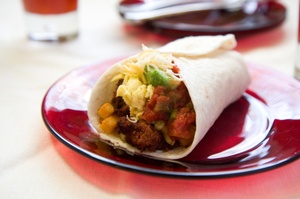 Whisk the eggs, salt and pepper together in a bowl.
Put non-stick skillet (or skillet sprayed with cooking spray) on medium heat.
Pour egg into skillet and cook, stirring occasionally, until set up, then add the black beans, stir and remove from heat.
Add salsa and shredded cheese, and fold into eggs.
Place the tortilla on a plate, add the egg mixture from skillet, and roll the tortilla up burrito style, tucking in the bottom and rolling up tightly.  Wrap in parchment paper or waxed paper to take with you.
Makes 1 good sized serving.
Increase the ingredients (double, triple, or more) to make more than a single serving.
You can easily modify this recipe by adding cooked turkey sausage, chopped avocado etc.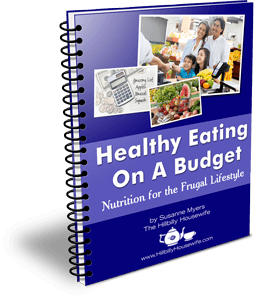 For more delicious healthy recipes that fit your budget, grab a copy of my ebook Healthy Eating On A Budget
Preparing healthy food for my family while still staying within a budget can be hard.  To make things simpler, I've done a little bit of research to figure out which budget friendly foods are ALSO healthy.  Once I had my list created, I started to gather some of my favorite recipes together so I we wouldn't get bored eating the same old beans, rice & eggs and I'm happy to share it with you today…

Just click on Healthy Eating On a Budget to order your copy today!

http://www.hillbillyhousewife.com/ebooks/healthybudget.htm
Disclosure: Some of the links below are affilate links, meaning, at no additional cost to you, I will earn a commission if you click through and make a purchase.