Quick Microwave Oatmeal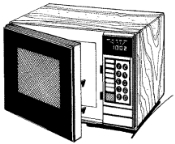 I was slow to understand and apply the timesaving which microwaving oatmeal offers an over-burdened mother in the morning. The only time I had microwaved oatmeal was in the mid 1980's during a home economics course which made more use of the microwave than anyone has ever dreamed of doing since. To my recollection, the microwaved oatmeal was a pasty goop, which spilled over the bowl and exploded into a nasty mess that I ended up cleaning, because my cooking partner was cleverer than I at weaseling out of it was. For years I eschewed microwaved oatmeal because of this one bad experience.
Turns out, I deprived myself of a wonderful time and energy saving method. The key to microwaving oatmeal is to cook it in a larger bowl than you think it needs. For the recipes included in this book, I use a 3-quart glass casserole dish. This gives the oatmeal plenty of room to boil, without tempting it to bathe the inside of the microwave with its hearty goodness.
To begin, combine all of the ingredients called for in the recipe in your large glass bowl or casserole. This includes the water, the oatmeal and all of the various seasonings. Place the bowl in the microwave and cook it on High for about 8 minutes, or until the mixture boils really big and aggressively all over the dish. For old-fashioned oatmeal you want it to continue this rumbling boil for a minute or so. For quick oatmeal, you just need it to boil all the way through to the center of the dish, and then let it sit for a few minutes before serving. Depending on your microwave wattage the cooking time may be more than 8 minutes, or it may be less. Watch the oatmeal the first time you make it, and take note of how much time it takes to cook.
The beauty of this method is that the oatmeal can be left to tend itself. Meanwhile you can run off to find lost socks; scavenge up field trip money; and pack the lunches for hungry heathens hell bent on making the morning rush take as long as possible so they miss the bus and you have to drive them to school. Other hot cereals can also be microwaved. Read the package to find out how, and be sure to use a big enough bowl for the cooking.
Disclosure: Some of the links below are affilate links, meaning, at no additional cost to you, I will earn a commission if you click through and make a purchase.